A-DATA discusses upcoming gamer products from HQ
Focusing much more on gamers and overclockers.

Published Mon, Jun 16 2008 3:31 AM CDT
|
Updated Tue, Nov 3 2020 12:38 PM CST
We spent a couple hours with A-DATA at its Taiwanese headquarters today and discussed current as well as future plans for the expanding memory company.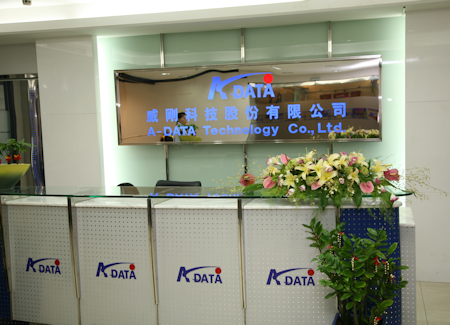 Cheryl Chu (Project Marketing Manager) and Steven Kuo (OC Product Manager) of A-DATA mentioned many fascinating points which suggested the future direction of the company to us. Steven was employed by A-DATA recently to take over its overclocking products and also head up a new direction for A-DATA which focuses on gaming products.
Initially we were shown a prototype of A-DATA's X2 series memory cooler. Steven commented that A-DATA wishes to further expand its presence in the high-end OC memory module market by vastly improving on its line of OC products. A-DATA's first Extreme series of memory coolers (just a traditional heat spreader with fancy logo) was just not extreme enough for Steven, who was trying throughout our discussion, to point put A-DATA intentions to have its OC memory in every enthusiasts computer.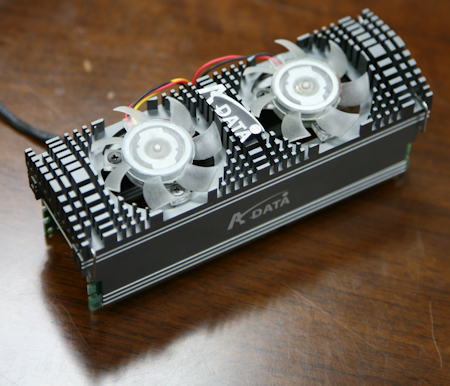 A-DATA will soon launch water-cooled memory using the same type of X2 memory cooler pictured above. Not only that though, A-DATA will also launch a dry ice version cooler which will look similar, except house a copper tray at the top, where the dry ice will sit and do its job - it should cool the memory to well under minus for those looking to push their memory well into the DDR3-2400 range. When asked if an LN2 cooler would also be launched, it was mentioned that would be
too
extreme and as we also pointed out, RAM doesn't really need to be cooled to such low temperatures (under -100c).
A-DATA will launch its X2 series of memory with the new improved coolers next month starting at DDR3-1600. Off the record, Steven mentioned that they are using high quality Samsung and Micron chips that may or may not hit 2133MHz DDR and even higher on the right motherboard (probably Intel X48).
Steven also went on to mention that A-DATA will later this year be releasing a product which is similar to GIGABYTE's I-RAM ram disk drive. While details are slim at this stage, it will support DDR2 memory (as low as DDR2-400 will work) and it will mount into an optical drive bay at the front of your case. We haven't got many details on this yet except for the fact that it will house up to eight modules and is designed purely for gamers who cannot afford a regular SSD. With low-end DDR2 being so cheap at the moment, this solution may take off and sell like hot cakes.
Next year A-DATA will also begin producing its own line of gaming keyboards, mice and even power supplies. It has noted the success of Corsair and OCZ in this area and wishes to join in on the action and apply pressure to the two American memory makes who are also busy expanding their business into many different areas besides just RAM.
We will be working closely with A-DATA and testing all of its upcoming products - stay tuned for more in the following months.