Toshiba out with tiny 160GB 1.8-inch 5,400 RPM HDD
Tiny dual-platter SATA 150 HDD launched.

Published Thu, Jun 12 2008 3:20 AM CDT
|
Updated Tue, Nov 3 2020 12:38 PM CST
Toshiba made the news today when it released its 160GB MK1617GSG drive today.
What makes it special is its small form factor - it is said to be the world's largest and fastest 1.8-inch hard drive and designed specifically for small notebooks and Mobile Internet Devices.
Sure, Solid State Drives (SSDs) are the most popular at the moment but they are also expensive. At this present time, a 160GB SSD drive is just out of the question due to the high cost.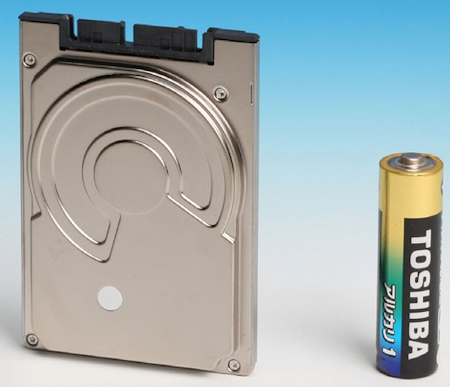 Toshiba's MK1617GSG gets 8MB of cache, 15 millisecond average seek time, two 80GB platters, SATA 1.5Gb/s and 5,400 RPM. If all of that doesn't mean anything to you, what it should translate into is a small hard drive that offers rather good performance.
You'll start seeing these new 160GB (and 80GB) drives popping up in OEM systems and notebooks from August but there were no details on if they will hit the retail channel store shelves.