OpenAI's board of directors recently fired CEO Sam Altman, triggering massive controversy in the growing billion-dollar sector. Analysts believe Microsoft CEO Satya Nadella will help calm the tumult and restore morale to the company.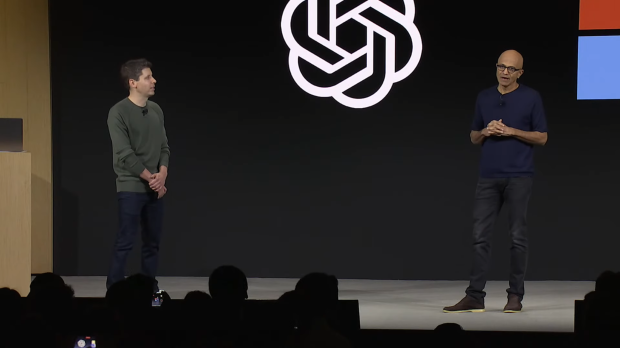 OpenAI CEO Sam Altman has been fired, with the board citing that Altman was "not consistently candid in his communications with the board, hindering its ability to exercise its responsibilities."
It's believed that Altman's side project Tigris is to blame for his termination--the OpenAI CEO had been seeking to raise billions of dollars to create new chips to unseat NVIDIA's dominant market position.
Altman's firing has kicked off a hornet's nest among OpenAI employees, with over 500 workers signing a petition that calls for the board of directors to resign or else the employees would quit. "Open AI is nothing without its people," reads a popular social media campaign that's spread around Twitter.
Altman has since joined Microsoft and will help lead AI initiatives at the tech giant.
So what's next for OpenAI? Analysts like Jefferies' Brent Thill believe that Nadella will step in and help calm things down.
In a recent Bloomberg Technology interview, Thill was asked if Microsoft could just simply acquire 100% of OpenAI, which Thill responded:
"I don't know if they can. They obviously have a $11 billion+ stake. They care for the future, they want to ensure this happens."
Thill goes on to highlight what he believes will happen with the fast-growing AI giant:
"My view is that OpenAI actually will effectively get that board settled down, get the employees settled down and hopefully keep everyone in place. And I don't know their incentive structure, but I'm not sure that I'd want to lose all my incentive comp and stock options in OpenAI just because I am upset the CEO left. I don't think that makes a lot of sense.

"My sense is that this ship will be calmed, that OpenAI with Microsoft, with Satya Nadella--he's the best negotiator in tech. They'll figure out a way to ensure that they keep this intact, keep their investment preserved, but also have the best of having Sam and team there.

"I think there's going to be a better outcome, hopefully, for OpenAI...for their employees, that they can get some additional board members in, get them calmed down."