Microsoft has made changes to its internal gaming leadership teams to help optimize the Xbox business.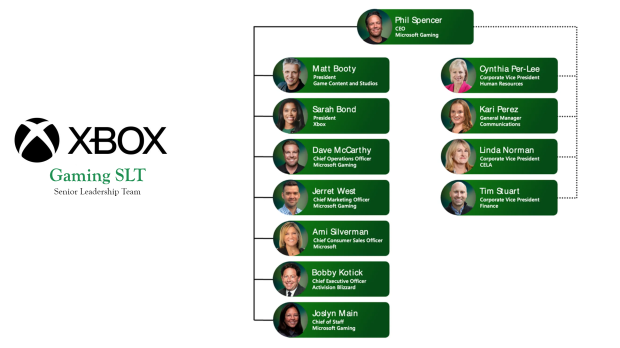 Xbox's Senior Leadership Team (SLT) is getting overhauled as Microsoft prepares for the future of gaming. Microsoft has made two major changes to its Xbox team: Sarah Bond has been promoted to President of Xbox, where she will oversee multiple aspects of the games division.
Phil Spencer will still be the CEO of Xbox, which includes responsibilities like making decisions on game releases and content exclusivity.
"To manage the platform of today, and build the platform of tomorrow, we are bringing together the teams that will make this possible. Sarah Bond will lead this team as President of Xbox - bringing together Devices, Player & Creator Experiences, Platform Engineering, Strategy, Business Planning, Data & Analytics and Business Development," Phil Spencer wrote in a memo, which was acquired by The Verge.
Matt Booty is now the President of Content and Studios, which now includes ZeniMax; while Booty will oversee ZeniMax, it's still a limited integration company and Jamie Leder will retain his role as CEO of ZeniMax.
"Great games are fundamental to everything we do. We believe that an expanded gaming content organization - one that enables Xbox Game Studios and ZeniMax's development studios to collaborate effectively together - will empower those world-class studios to do their best work in growing our portfolio of games players love."
This new shake up has two main goals: One is to better and more tightly integrate Xbox-owned studios into a more cohesive internal structure where certain benefits can be better leveraged. Microsoft doesn't want another Redfall situation; instead, it wants more Starfields. The latter game saw multiple Xbox branches coming together to help with Starfield's development and optimization, including Xbox's Advanced Technology Group (ATG).
The other goal is to better streamline game and content development for a new age of gaming. This shake up is opportune, and comes shortly after Microsoft closed its $68.7 billion deal to acquire Activision Blizzard King. While this new strategy would still take place if the acquisition didn't go through, Activision will help supercharge Microsoft's grand ambitions to;
Create a new Universal Store that connects the Xbox Store, Microsoft Store, and a mobile-based content/app/game store together in a cohesive way

Create new mobile games

Leverage new monetization strategies

AI-based integration

Ad-oriented content for extra choice in access points

Supercharge cloud gaming development and expand access

New hardware initiatives like digital-only Series X, Keystone cloud console

Develop new hit AAA games

Spark Game Pass growth through value and content
As far as Activision Blizzard King, that integration is still under way and Microsoft has not announced a new CEO to replace Bobby Kotick, who will step down as acting CEO of Activision Blizzard in 2024.