With a 26-minute presentation covering the game's cinematic story, space battles, all-star cast, first-person missions, and stunning visuals - it finally looks like Squadron 42 is on track to deliver the modern Wing Commander game we've all been waiting for.
For those needing a refresher, Squadron 42 was announced alongside the long-in-development Star Citizen in 2012 - described as the 'single-player' component of the ambitious sci-fi universe sim. The original release window was 2014, and from there, it was continuously delayed as the size and scope of both Star Citizen and Squadron 42 expanded. It's a game that has been in development for over a decade.
"Squadron 42 is now feature complete and has entered its polish phase," Chris Roberts, Founder and CEO of Cloud Imperium Games (CIG), says in the impressive video demonstration of the game. If you're into sci-fi games with cockpit action like the Wing Commander series or more modern titles like Mass Effect and Starfield, it's a must-watch.
The video showcases quite a bit of ship combat, on-foot stuff with shooting, and plenty of cinematic sequences featuring Gillian Anderson, Mark Hamill, Gary Oldman, Mark Strong, and John Rhys-Davies. The game's scope looks epic, with exploration that takes some elements of Star Citizen, with linear levels making up the bulk of the blockbuster-style presentation.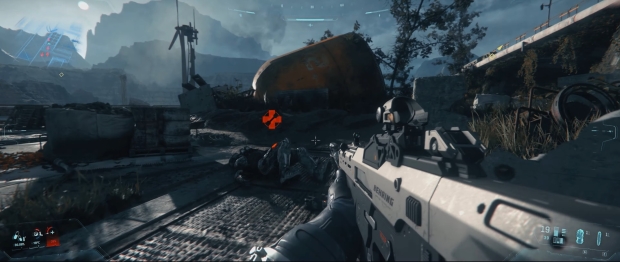 Visually, the game has come a long way, and with a Half-Life 2-style gravity gun, there is quite a bit of puzzle action in here, too. If it nails the mix of space combat with tactical FPS action (the game features Battlefield-style destructible environments), no doubt it'll be impressive - but as Squadron 42 has been in development for such a long time, this new milestone doesn't mean a release date is right around the corner.
However, one bonus is that Squadron 42 being "feature complete" means more resources can be put toward Star Citizen. "Now we're in the polishing phase on Squadron 42, you'll start to see a lot more things coming to Star Citizen," Chris Roberts adds at the end of the presentation. "As well as overall progress on the Persistent Universe. The polish phase can take some time. We have come this far, and we want to make sure that Squadron 42 delivers on the promise of being this generation's Wing Commander."