Samsung formally announced its next-gen GDDR7 memory back in October 2022, so we're about a year away from the announcement now, with the South Korean giant hosting its annual Memory Tech Day in San Jose on October 20.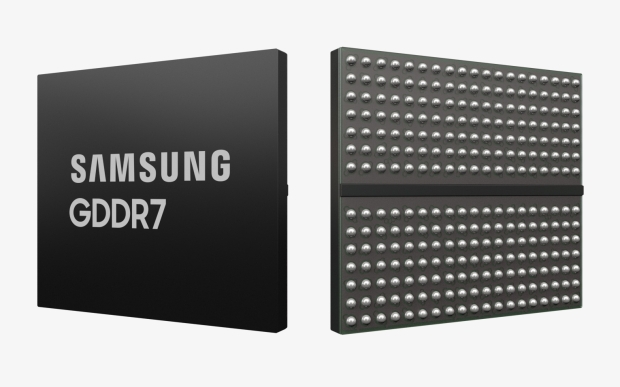 At the event, Samsung announced its next-gen Shinebolt HBM3E memory, which is destined for AI GPUs and HPC. But the company also provided some small but important updates on its new GDDR7 memory. Samsung said that it's not just improving the active power consumption of GDDR7 over GDDR6, but its new GDDR7 memory will use 50% less standby power than GDDR6 does, which is thanks to additional clock controls.
We already know that Samsung will have 16Gbit (2GB) modules of GDDR6 at up to 32Gbps of projected speed, which represents a 33% improvement in bandwidth per pin over GDDR6. This means on a 256-bit memory interface, we should see a hefty 1TB/sec of memory bandwidth... while on a much wider 512-bit memory interface, that bandwidth skyrockets to 2TB/sec of memory bandwidth.
512-bit - 2048 GB/s (2.0 TB/s)

384-bit - 1536 GB/s (1.5 TB/s)

320-bit - 1280 GB/s (1.3 TB/s)

256-bit - 1024 GB/s (1.0 TB/s)

192-bit - 768 GB/s

128-bit - 512 GB/s
Samsung should also enjoy a 20% power efficiency improvement with GDDR7 versus its current GDDR6, which will partly come through using Samsung's 3rd Generation D1z (10nm-class) fabrication node.
Samsung is also using PAM3 encoding with GDDR7 instead of PAM 4 encoding used on GDDR6X memory, with PAM 3 capable of 1.5 bits transferred per cycle (or 3 bits over two cycles), which will deliver faster memory transfer rates, all without additional attention being paid to the memory bus (making it wider, making things more experience, more complicated, and more). The benefits of GDDR7 are pretty nice to see; this is what we can expect:
GDDR6X: 24Gbps @ 768GB/sec @ 1.35V (PAM 4)

GDDR7: 36Gbps @ 1024GB/sec @ 1.2V (PAM 3)
Which GPUs will use Samsung GDDR7 memory? We should see NVIDIA shift into the world of GDDR7 memory first, with its next-gen GeForce RTX 50 "Blackwell" series GPUs. The flagship GeForce RTX 5090 should hopefully have somewhere between 32GB and maybe even 48GB of GDDR& memory.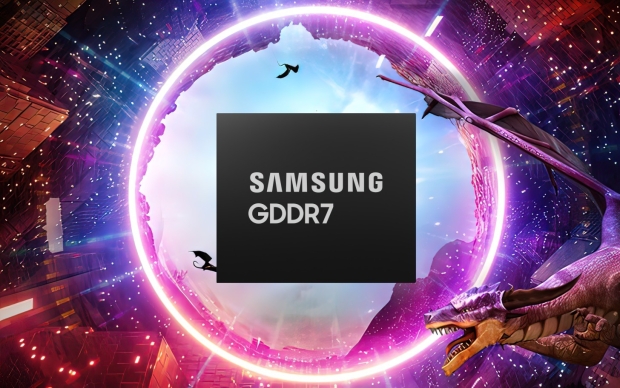 Business Korea reported a few months ago that NVIDIA is "expected to primarily consider Samsung's products for its next-generation lineup over Micron's" in regards to Samsung's new GDDR7 memory and its next-generation GPUs. GDDR7 offers a 1.4x performance boost with over 20% better power efficiency over GDDR6X memory.
We could see:
GeForce RTX 5090 with 48GB GDDR7

GeForce RTX 5080 with 24GB or 32GB of GDDR7

GeForce RTX 5070 with 24GB or 32GB of GDDR7

GeForce RTX 5060 with 16GB or 24GB of GDDR7