AMD just announced its new Ryzen Threadripper PRO 7000 WX series CPUs alongside its new HEDT-destined Ryzen Threadripper 7000 series CPUs. The former offers up to a blistering 96 cores and 192 threads of Zen 4 processing power, while the HEDT-focused chip features up to 64 cores and 128 threads of Threadripping power.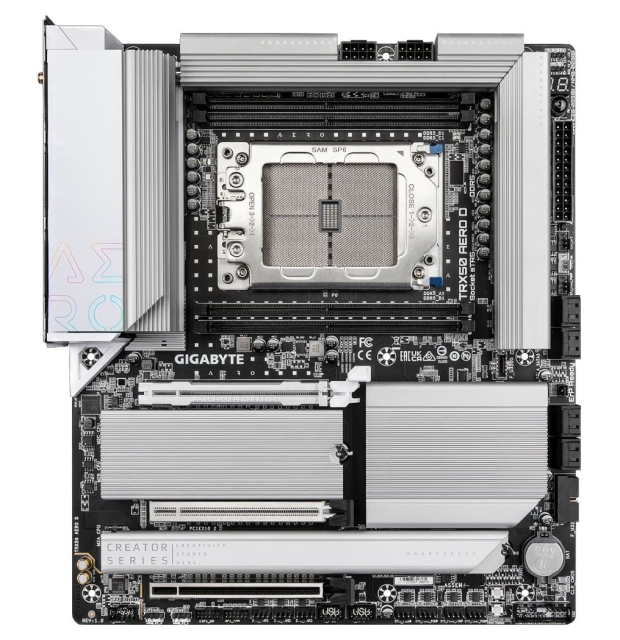 Both of AMD's new Ryzen Threadripper 7000 series CPUs are compatible with the new TRX50 chipset. At the same time, AMD has the new WRX90 chipset for ridiculously high-end workstations and servers that want every single drip and drop of performance, features, PCIe lanes, and more that the more expensive CPU + motherboard combo offers.
But for the HEDT market, which is much stronger and more passionate -- with the money to spend on a HEDT workstation -- this new TRX50 chipset mixed with a super-fast new thread-heavy CPU from AMD, then the new GIGABYTE TRX50 AERO D motherboard will be a treat.
GIGABYTE was quick to announce its new TRX50 AERO D after AMD's reveal of the new Zen 4-powered Ryzen Threadripper 7000 series CPUs, with the sTR5 (SP6) socket that features 4 x DDR5 DIMMs with quad-channel DDR5 memory support. Reminder: you've only got dual-channel DDR5 memory support on consumer platforms, that's why the High-End Desktop (HEDT) processors and motherboards have far more features and abilities up their sleeve.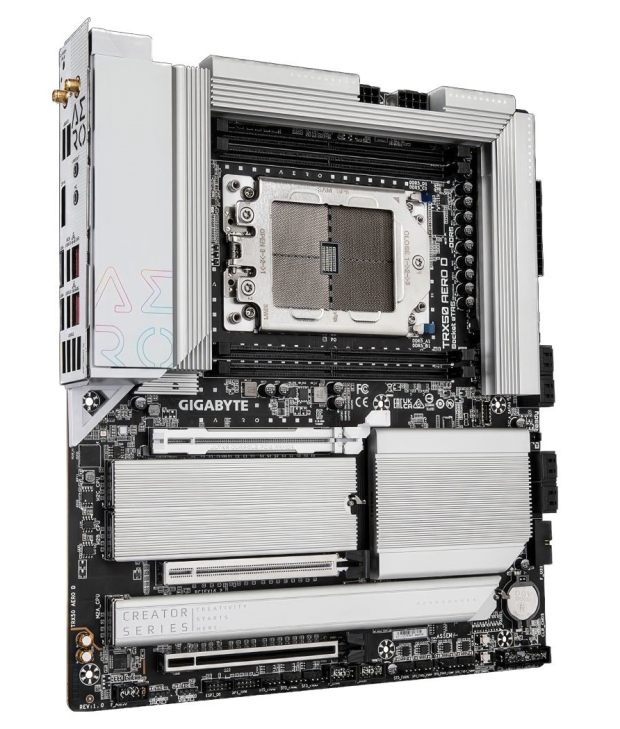 We don't have the exact specifications of the TRX50 chipset and the GIGABYTE TRX50 AERO D motherboard in particular, but we do know that you'll be able to have multiple PCIe 5.0 graphics cards inside of this system, with 4 x M.2 slots that will offer blazing-fast speeds with tons of PCIe lanes to spare.
TRX50 AERO D Specifications:
Supports AMD Ryzen™ Threadripper™ PRO 7000 series/ Ryzen™ Threadripper™ 7000 series Processors​

Breakthrough Performance: 16+8+4 Phases Digital VRM Solution
Quad Channel DDR5: 4*SMD R-DIMMs with AMD EXPO™ & Intel® XMP Memory Module Support
Reinforced Overall Thermal: VRM Thermal Armor Advanced & M.2 Thermal Guard
Ultimate Scalibility: 3*PCIe x16 slots for Multi-GPU and 4*PCIe x4 M.2 slots
Next-gen Connectivity: Dual USB4® Type-C ports
Blazing Fast Networks: 10GbE + 2.5 GbE Dual LAN and Wi-Fi 7
PCIe UD Slot X: PCIe 5.0 x16 slot with 10X strength for graphics card
EZ-Latch Click: M.2 heatsinks with screwless design
EZ-Latch Plus: M.2 slots with quick release design
Hi-Fi Audio with DTS:X® Ultra: ALC1220 CODEC
UC BIOS: User-Centred intuitive UX with Quick Access function