Intel has teamed with Spanish firm Submer in a new development into the world of single-phase immersion cooling technology. Their new cooling technology can keep a CPU running at 1000W of power cool, which is incredibly important in the server, data center, HPC, and AI spaces.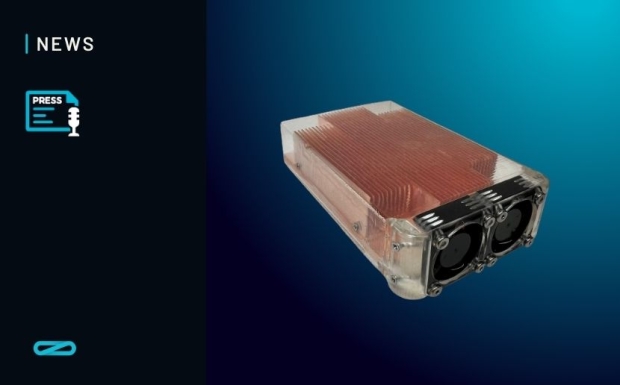 Pushing silicon to its limits in terms of clock speeds -- so we're talking CPU and GPU here -- cranks up the heat generated and, thus, heat that needs to be dissipated. 75W consumer, or up to 300W+ consumer CPUs, are right to cool with a 240mm or 360mm AIO liquid cooler.
1000W of heat coming from a CPU and keeping it cool with new immersion tech? That sounds very cool, pun intended. Submer specializes in enabling data centers across the world, taking care of the cooling solutions for HPC, hyperscale, data centers, Edge, AI, DL, and blockchain applications. But now, with the gigantic boost in everything AI hardware, servers are running hot-hot-hot, and now the massive advancement from the new Forced Convection Heat Sink (FCHS) package, which will be a huge upgrade to thermal dissipation.
Intel and Submer haven't nailed down the exact happenings of its next-gen FCHS cooling system, but it will use the power of liquid cooling between two cold plates, enhancing the thermal transfer and assisting in the cooling process. This new technology was cooling an "undefined Xeon processor," which was probably just Xeon "Sapphire Rapids" at 800W+ power.
Submer co-founder and CEO Daniel Pope explained: "Many have challenged the technological runway of single-phase immersion cooling. The Forced Convection Heat Sink is the undeniable proof that immersion is here to compete head-on with other liquid cooling technologies, including Direct Liquid Cooled water-based cold plates".
How does FCHS work? The new FCHS package combines the efficiency of forced convection with passive cooling, enabling the cooling of high TDP CPUs and GPUs in single-phase immersion systems. Submer explains that it's a "fail-proof design" that enables natural convection in the event of propeller failure.
It's also very cost-efficient, with FCHS not only highly efficient but also cost-effective. The components made for the immersion cooling technology are cheap to manufacture, and they could also be 3D-printed. They're designed for easy retrofitting into any existing server and immersion tank setup, with FCHS empowering data centers to easily handle high-density compute workloads with the new cooling technology.
Intel and Submer's new FCHS cooling delivers thermal resistances that rival those of Direct Liquid Cooling (DLC), which makes it a major competitor in the liquid cooling market. The new cooling package returns thermal management to the server with BIOS PWM control.
This new technological breakthrough paves the way for "even higher TDPs and future collaborations solidifying single-phase immersion as a leading cooling solution," explains Submer.