Pete Hines is leaving Bethesda after 24 years of gaming.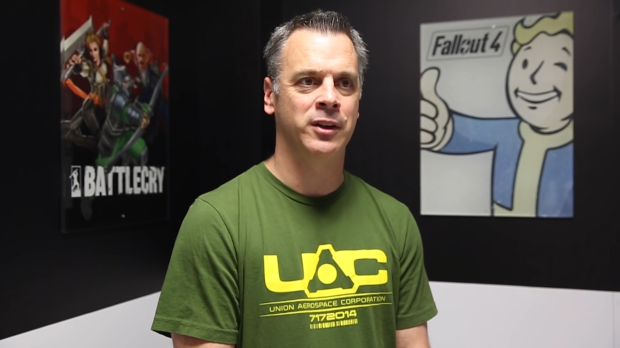 There's few public faces in gaming that are more influential than Pete Hines. Known affectionately as Uncle Pete, Hines has been a pivotal figurehead for the games industry. Throughout the decades we have seen Uncle Pete take the stage at E3 and beyond, offering quips and showcasing some of the most influential games of our era.
Now just weeks after Starfield's launch, Hines is retiring and leaving the studio on a high note. Across his tenure at Bethesda, Pete Hines has influenced so many facets of the company's releases--he is credited on 89 games, and even went so far as to edit the guidebook for The Elder Scrolls III: Morrowind (which happens to be my favorite guide of all time).
Hines made the announcement with the following post:
After 24 years, I have decided my time at Bethesda Softworks has come to an end. I am retiring and will begin and exciting new chapter of my life exploring interests and passions, donating my time where I can, and taking more time to enjoy life. This was not a decision I came to easily or quickly, but after an amazing career, culminating in the incredible launch of Starfield, it feels like the time is right.

This certainly is not goodbye by any means. My love of Bethesda and its people has never wavered, and I will never stop being a part of this incredible community we have grown. Thank you to the hundreds and thousands of fans I've gotten to meet and talk to over the last 24 years. Your energy, creativity, and support has been such a big part of my journey. I look forward to experiencing the next part of the adventure alongside you.

Working with the amazing people, teams, and studios at Bethesda has been the greatest experience of my life. I'm incredibly proud of everything we have done together, and I'm genuinely excited to see the amazing things they will create next.

Love you guys,

Pete