Sony has officially announced the new PlayStation 5 "slim" duo, complete with a modular redesign that allows consumers to fluidly change their consoles at any time.
As previous reports had indicated earlier this year, Sony will indeed release a new PS5 Slim lineup for Holiday 2023. Sony isn't calling the new designs "slim," though. These new versions are meant to be successors that eventually replace the existing PlayStation 5 disc and digital consoles that are currently on the market.
The new PS5s will still be sold separately as the PlayStation 5 ($499) and the PlayStation 5 Digital Edition ($449). As before, one model comes with a disc drive and the other doesn't. The major difference here is that either model can morph back and forth between each form factor. PS5 Digital Edition owners can buy a disc drive later down the line for $80 and install it at any time--the PS5 digital edition is no longer permanently digital. The converse is true--any disc-based PS5 can also transform into a disc-less unit.
Sony is making two very distinct moves its new PlayStation consoles. First, there's the obvious mid-gen refresh that gamers are very familiar with. It's not uncommon for Sony and Microsoft to release new PlayStation and Xbox consoles a few years into a new generation. The main aim is to save money on production costs (more on that later), improve profitability, and boost the overall efficiency of the system wherever possible.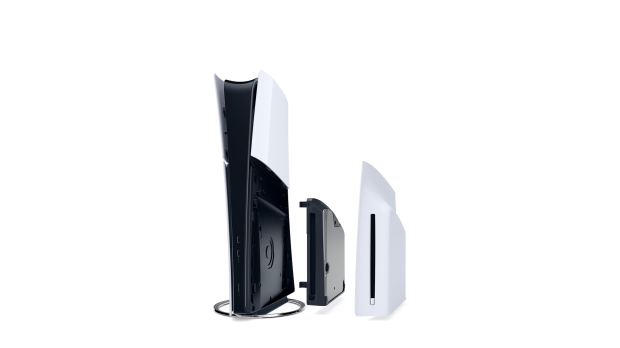 The second distinct move is that Sony is effectively bringing modular consoles to the mainstream hardware market.
While gaming is no real stranger to modular consoles--there's the Polymega, for example--this is first PlayStation console that allows owners to quickly and easily hot swap a vital component like a disc drive.
This path looks pretty advantageous for Sony. On one hand, Sony is saving money on production, and on the other, it has introduced a new $80 peripheral with the PlayStation 5 UHD disc drive accessory that simply didn't exist before.
Gamers get more choice and flexibility while Sony simultaneously reduces costs and brings another "highly profitable" accessory to the market.
The new PlayStation 5 models will release in November across retailers and on the PlayStation Direct storefront.