More P45 motherboards from GIGABYTE
New features all around.
Published Mon, Apr 28 2008 3:41 AM CDT
|
Updated Tue, Nov 3 2020 12:38 PM CST
Last week we showed you the world exclusive pictures of Gigabyte's
EP45 Extreme
and this week we thought we'd follow up with some more P45 motherboards from Gigabyte. First up we got the EP45-DQ6 which will be Gigabyte's flagship P45 based motherboard and unlike the Extreme, this is a normal retail board targeting high-end users looking for something out of the ordinary. It can't compete with the Extreme when it comes to chipset cooling, but it has a fair few extra features that you won't get with the Extreme board.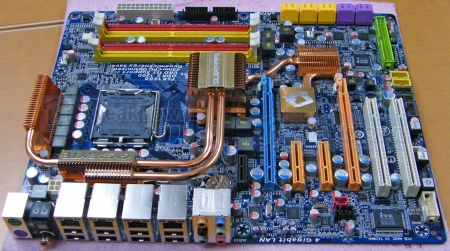 Click to enlarge
As you can see from the picture above, the design is quite different, as this time around Gigabyte has designed a very different PCB for each and every P45 based motherboard, unlike the P35 series which had a few boards that weren't all that different. There are three things that set this board apart and you've most likely already spotted two of them. First up is quad Gigabit Ethernet with teaming support, this means that you can run 4Gbit Ethernet if you have a switch with enough spare ports and something fast enough to connect it to. How useful this is, is a different question all together, but it might be useful on a LAN Party or a similar event or for anyone shuffling large amounts of data over their network. The Ethernet controllers used can also regulate the amount of power used for the signal transmission, so on a shorter length of cable, they'll use less power.
Next up is the small heatsink close to the southbridge. This hides a PCI Express switch for lack of better words, which allows for the two x4 PCI Express slots to share four PCI Express lanes while still operating at near full speed. This is similar to Nvidia's N200 chip that is used on several motherboards and even the 9800GX2 graphics cards. The two x16 slots will operate at x8 when both are used, just as with all other P45 boards. Having a pair of x4 slots aren't that useful at the moment, but hopefully more consumer devices that can take advantage of these slots will appear. The board also has a single x1 PCI Express slot and two PCI slots.
Then there's what Gigabyte calls Smart Backup, it consists of a pair of RAID controllers which can communicate with each other and as such allow for a RAID 5 setup across four hard drives. The key thing here is that it's meant to be very easy to set this up and you shouldn't have to install any drivers, which means that this will work with virtually all operating systems. We don't have any details of exactly how this is done, but it'll be interesting to see how well this works. It's also meant to lower the CPU utilization compared to normal motherboard RAID solutions and the controllers have a small amount of data cache, normally only found on more expensive RAID controllers.
Something you can't see from the picture is that Gigabyte has added seven LEDs around the board which will light up in sequence when you power the system on. This is similar to the debug LEDs found on many motherboards, but this is actually much easier to use, as if the light stops, then there's something wrong with whatever it stops next to. Say for example that the RAM in the system has stopped working, then there will be a static light next to the memory slots to indicate this. If everything is functional then the lights will flash up and then turn off once the system has booted. This board also features an updated version of Gigabyte's DES power saving technology and an onboard TPM (Trusted Platform Module) controller to which Gigabyte supplies a utility in which you can store your passwords.
We're sure you can figure out some of the remaining features of the board by yourself, but it has support for up to 12 USB 2.0 ports, three FireWire ports and it comes with a couple of eSATA brackets as well. It will most likely be an expensive board, but for those that don't need quite all of those features, then there's always the DS series of boards and although we've covered some of those boards
before
, we've got pictures of one model that hasn't been shown as yet.
The EP45T-DS5 is similar to the board that bit-tech covered a little while back, but the T in the name denotes DDR3 support. With DDR3 prices slowly coming down to a more reasonable level, this board might be interesting for those looking at jumping on the DDR3 bandwagon. The board looks more or less the same as the EP45-DS5, apart from the memory slots which are different. This board also features the same hardware RAID controllers as the EP45-DQ6, but it's only got a pair of Gigabit Ethernet ports and no x4 PCI Express slots.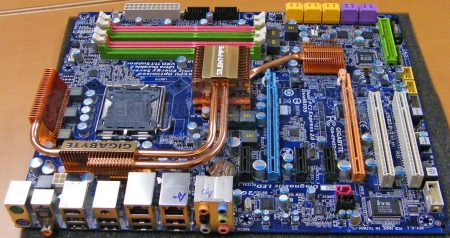 Click to enlarge
Both boards also feature power, reset and CMOS reset buttons below the bottom PCI slot and although this location might not be ideal, it's a step forward for Gigabyte and a feature we really like to see. Another change from the DQ6 is that the DS5 only has 6-phase PWM instead of a 12-phase design on the DQ6, but they share the 2-phase memory and chipset PWM design with the Extreme board. The one model we've yet to see is the DS4 and this has generally just been a DS3 with improved cooling, but time will tell if Gigabyte has changed this model around this time as well. For now, it looks like Gigabyte has a pretty solid selection of P45 boards with some pretty decent features and it's just over a month until the official launch, so for those waiting, it's not too long to go.