Microsoft has funded two digital-only mid-gen Xbox console refreshes, but Sony moves in the opposite direction to improve profitability and significantly reduce costs.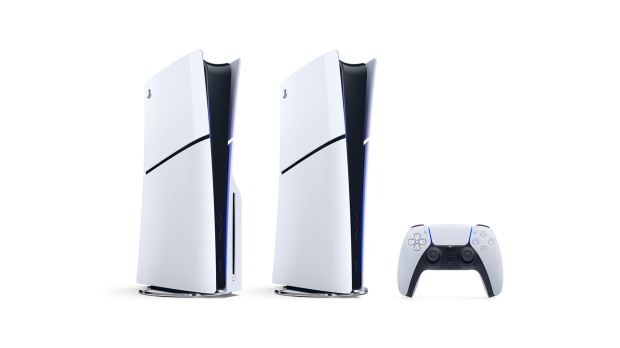 Xbox and PlayStation compete in two different timelines. Microsoft is trying to plan for an all-digital future where consumers are funneled into subscriptions, whereas Sony is capitalizing on the here and now. Since the PS5s launch in 2020, Sony has released multiple console revisions aimed at boosting profitability while simultaneously reducing costs.
Microsoft's Xbox Series X/S consoles aren't profitable--in fact, no Xbox console has been made and sold at a profit. The PlayStation 5, on the other hand, was profitable soon after launch. This profitability isn't constant, though, and the PS5 has ebbed in and out of certain levels of profitability due to higher manufacturing and shipment costs. Sony responded by raising PS5 prices worldwide except for North America and releasing multiple hardware revisions that reduce weight and make the system more efficient.
Sony's quest for improved profitability hasn't impeded or shaken up gaming trends. Instead, Sony is trying to serve consumers what they want while trying to capitalize on its products along the way.
While digital makes far and away more revenue than physical, including both hardware and physical game sales, Sony does not want to disrupt the physical market in the same way Microsoft does.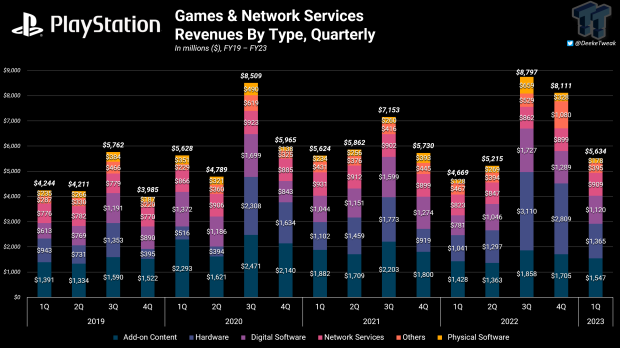 After all, hardware is still profitable and Sony makes billions a year from selling PlayStation systems. There's also the lucrative accessories market that accompanies console hardware (Sony says its peripheral/accessory business is highly profitable).
The new PlayStation 5 "slim" models are the latest example of Sony's strategy.
Like any console revision, these new PS5 slim updates are meant to improve profitability by reducing manufacturing, production, and shipment costs. Sony has specifically targeted a reduction in both weight and dimensions (width, height, depth) for its PS5 revisions. The company has released at least three model revisions for its disc and digital PS5s, and each update has shaved off quite a bit of weight.
The latest PS5 Slim duo sees the most dramatic shift in weight reduction, with an 18.6% and 24% reduction across the disc and digital models, respectively.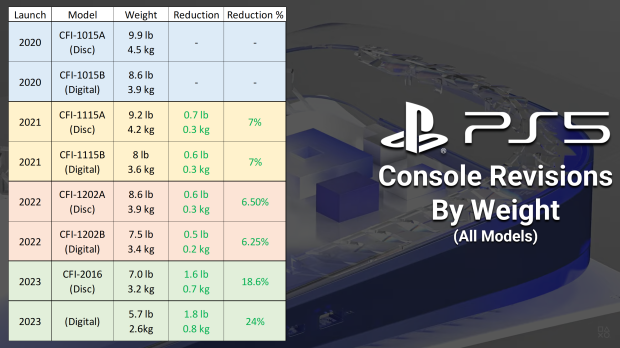 The lighter the consoles, the less Sony will pay to ship the consoles via overseas freight. Various components for the PlayStation consoles are created outside of Japan and then shipped to various facilities like Sony's massive assembly line in Kisarazu, Japan. After assembly, these consoles are then shipped to foreign worldwide regions like North America, Europe, and China.
Apart from the business rationale, Sony is also meeting current trends with the form factor of its new PS5 lineup.
Sony is indeed interested in tapping the lucrative digital market. We've seen this manifest with the newer 3-tier PlayStation Plus subscription model, which has expanded now to include PS5 game streaming via the cloud. Sony is also doubling-down on producing live service games as part of its first-party plans.
That being said, Sony is clearly catering towards current demand with its hardware.
This is reflected not only in the modularity of the new systems, but also their price tags. The new digital PS5 is $50 more expensive than the older digital PS5. In fact, it's more expensive in the long run to buy a digital PS5 and then convert it to a disc-based PS5 with the $80 disc drive add-on; $449 + $79.99 = $530 compared to the base PS5 disc version's $499 cost.
It's possible that Sony is trying to see how many people will bite on the PS5 digital at $449 compared to the base $399 price. Sony can see that most people are buying the disc version so that price hasn't raised--at least in the United States, whereas the console is more expensive in other regions.
As Niko Partners analyst Daniel Ahmad notes, the PS5 disc version makes up the bulk of all PlayStation 5 console sales.
"What's interesting, is that unlike with Xbox where the all digital Series S is >50% of sell through, the PS5 digital version accounts for <20% of sell through. Although in both cases adoption rates were partially driven by production choices and constraints."
Ahmad goes on to say that Sony could be experimenting with its new lineup to see how many people actually buy into the new digital PS5 model.
"I believe this is more indicative of Sony's current thinking around its approach for next gen. If the new digital edition does gain traction and we see a continued trajectory of increased digital software sell through, then I wouldn't be surprised if Sony makes digital + disc drive add on the default option for next gen."
The maneuver also comes at an interesting time for Sony insofar as console production.
The company wants to ship 25 million PlayStation 5 consoles throughout this fiscal year, which represents the largest yearly shipment of systems in the history of the brand. The new consoles should help this in some regard, especially with the extra 175GB of SSD space included, but it looks like Sony is banking on more physical edition sales.
Thanks to the reduced size and weight, these new consoles will be a boon for profits and help Sony make more money from every PS5 sold.
In short, Sony is expanding PlayStation through existing vectors and is carefully trying to elongate and grow its business based on current trends. Unlike Microsoft, Sony does not want to disrupt the status quo too much (which makes sense because the status quo sees Sony on the top of the Big 3).