PAX Australia returned to Melbourne this weekend, a celebration of gaming, tabletop, esports, and pop culture that saw thousands brave the unseasonably chilly weather (to be fair, Melbourne's weather is always all over the place) to take in the sights, play the latest games (or some classics), or sit in on one of the many panels. I was keen to get my hands on a pre-release version of Super Mario Bros. Wonder at the massive Nintendo booth and check out a stack of locally grown indie games. However, PC Gaming was the show's star - and many of the top brands were on hand with local builders and partners to showcase the latest hardware.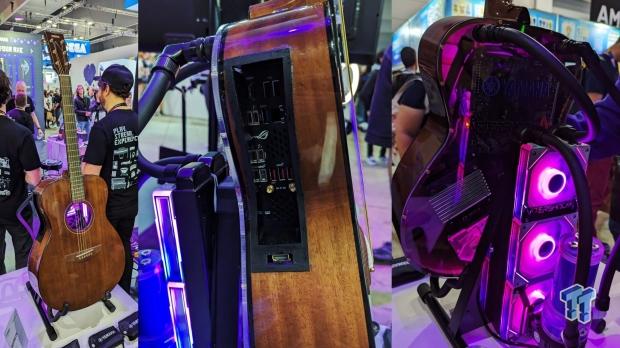 Plus, in the case of Yamaha, showcase one of their guitars turned into a PC. Seeing this one from a distance, I had no idea it was secretly a gaming PC - mainly because it was wedged between an actual drum kit and electric pianos (this is Yamaha, after all). It was only when I saw the liquid cooling and fans on the back that I realized it was indeed a gaming PC with I/O ports on the side and hardware hidden in the guitar's casing.
Like many at PAX this year, Yamaha partnered with the PC design gurus over at Aftershock to create this very cool fusion of music and technology. With a ZOTAC GeForce RTX 2080 SUPER, it might not be the most powerful rig on our list, but it's certainly a show-stopper. And yes, a playable instrument, too.
Cooler Master's SNEAKER X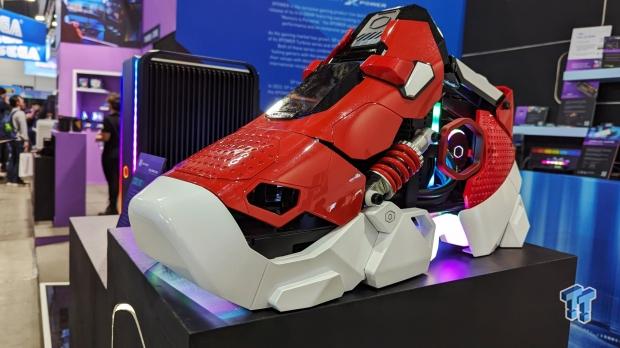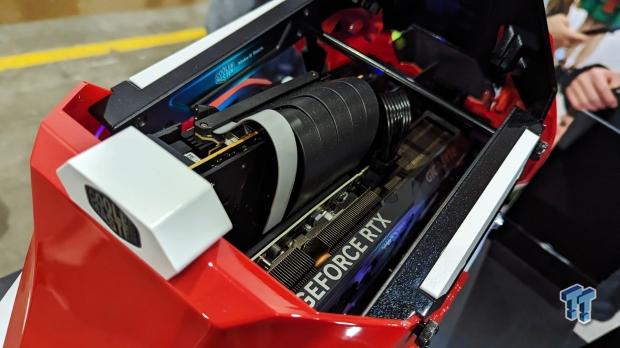 Cooler Master's SNEAKER X went on sale last week (check out our full write-up here), and at PAX, we got to see it up close and personal - powered by an NVIDIA GeForce RTX 4070 GPU. Speaking to Cooler Master at the show, they told me that each piece of this ready-to-order build has to be custom-designed and tested for production - a process that took a lot of research and development. As out there as a giant sneaker PC might seem, seeing this one in person and, yeah, I'd put it on my desk in a heartbeat - it's cool.
ASUS's RTX 4090 Powered ROG Evangelion (EVA-02) Full Build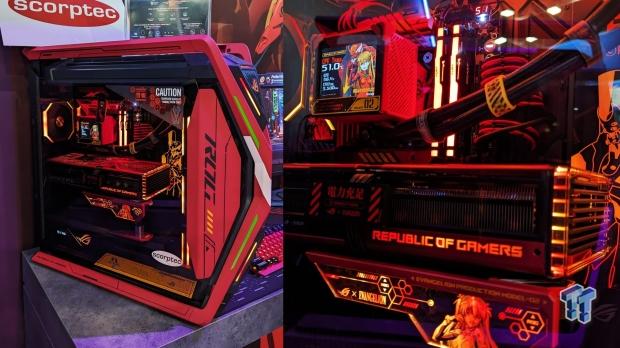 The ROG and Evangelion crossover is a sight to behold, with local PC retail outlet Scorptec putting together a custom EVA-02 edition hardware rig featuring a custom ROG MAXIMUS Z790 HERO motherboard, ROG STRIX GeForce RTX 4090 OC, ROG RYUJIN III 360 CPU cooler, case, power supply, and more. With the lighting and Evangelion flourishes, it looks amazing.
Cooler Master's Cooling X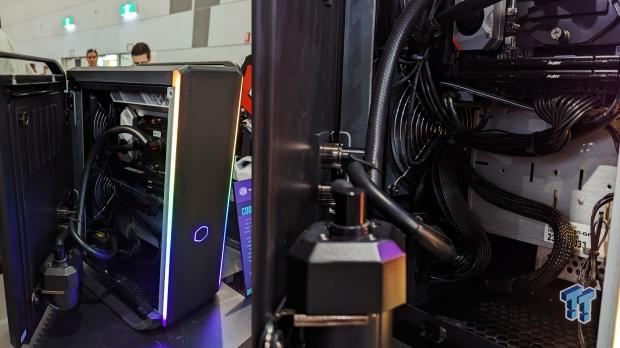 The Cooling X is a mini PC with massive GPU horsepower, as it features a custom design that liquid cools both the high-end AMD Ryzen 9 7950X 3D CPU and GeForce RTX 4080 GPU with radiators built into the side panels. It is a marvel of engineering to keep the size down (and the temps and noise levels, too), but one that costs quite a bit - with the model on display carrying a price tag of AUD 9,499 (around USD 6,060).
Fallout Sugar Bombs PC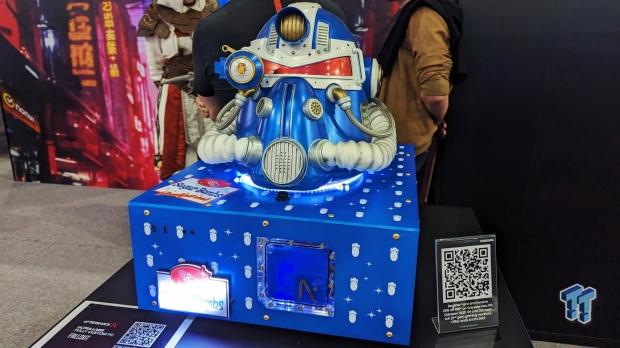 As a Fallout fan, I dug this custom PC build from Aftershock.
MSI's Project Zero and Gaming X SLIM Range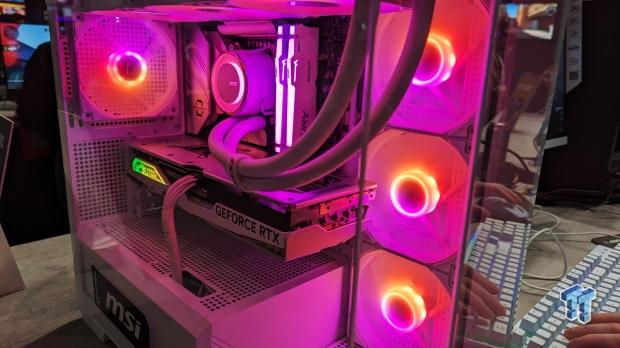 MSI's new Project Zero case and motherboard range is about hiding as many cables as possible and featuring a stylish open glass panel design. What makes this even more impressive is that the new Project Zero cases and motherboards are launching at affordable prices. With MSI showcasing them with the latest Gaming X SLIM range of GeForce RTX 40 Series GPUs, it was awesome to see a build that could still look amazing and not cost as much as a car.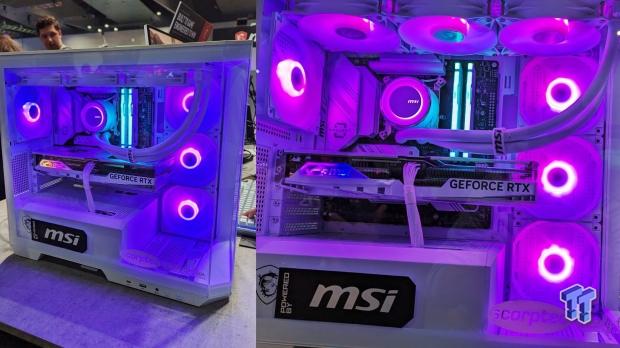 The MSI Project Zero Motherboard and MSI Project Zero Case will be released globally this December. The MSI Project Zero Motherboard is set to arrive in the mATX form factor, covering both the AMD B650 Chipset and Intel B760 Chipset flavors, and will carry an MSRP of roughly USD 179 and AUD 349. The MSI Project Zero Case (also mATX) will carry an MSRP of USD 99 - 109 and AUD 139. This pricing is tentative and could change prior to release.
Samsung Odyssey Neo G9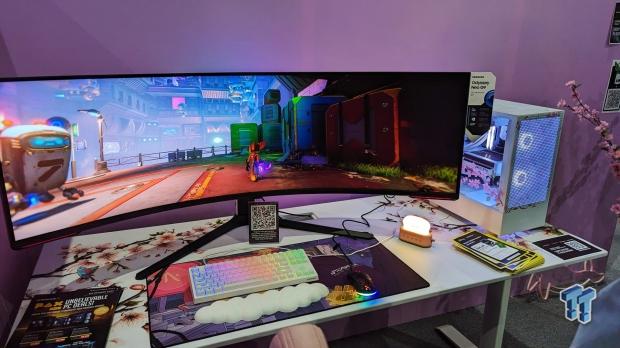 Jak went hands-on with the Samsung's Odyssey Neo G9, a 57-inch 32:9 QLED gaming display with a stunning 7,680 x 2,160 resolution a few months back. This week, it was my turn, and I got to play the stunning Ratchet & Clank with full ray tracing and super-fast DLSS 3 performance - it more than lives up to the hype.
Cult of the Lamb and Boba Tea Custom PCs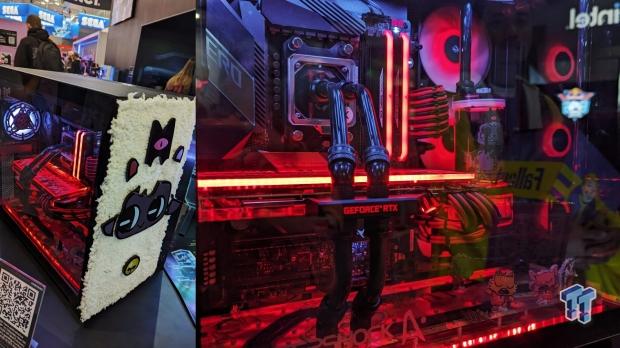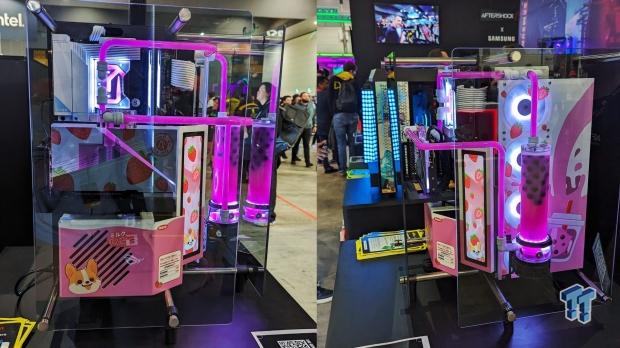 Cult of Lamb is an Aussie-developed gem where you start and maintain your cult (of cute lambs). Boba Tea is delicious. Here are two custom PCs that grabbed my attention.
Cooler Master's ORB X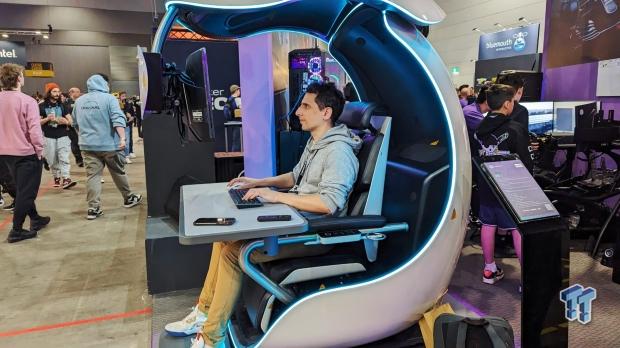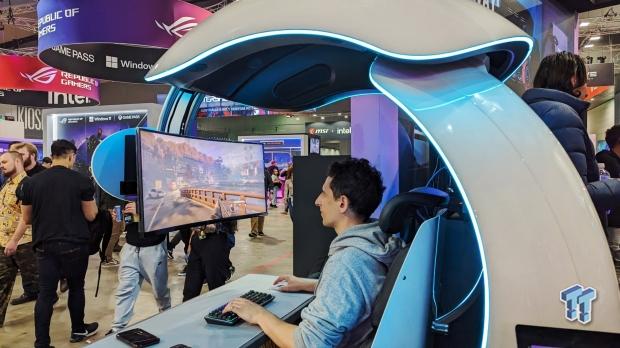 Okay, this looks like something from the future. There's no denying that the ORB X is an impressive and futuristic gaming pod with motorized everything and built-in spatial audio speakers. It opens and closes like that pod Darth Vader uses in Empire Strikes Back, and you can feel that sort of power. My only complaint is that they should have slapped on a bigger screen to ramp up the immersion, but that could have been due to the ORB X sitting there smack bam in the middle of a busy expo show floor. That and it costs tens of thousands.
Racing Rigs with Ultrawide Displays and GeForce RTX 40 Series GPUs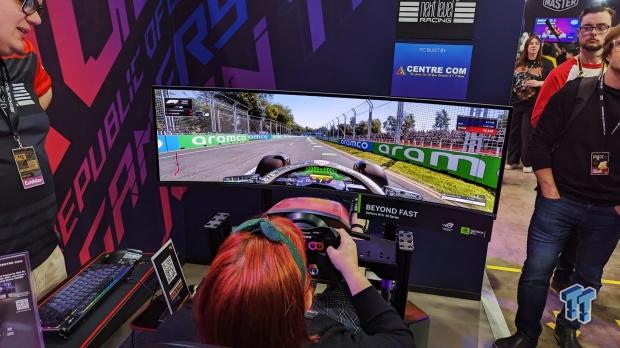 Custom racing rigs have been around for a while now, and at PAX Australia, there were more than a few - running either F1 23 or the latest Forza Motorsport. The big revelation, at least to me, was that putting a rig together isn't all that hard in 2023. With a steering wheel, chair, Ultrawide LED or OLED panel, and GeForce RTX hardware with DLSS, it's significantly more affordable to immerse yourself in some digital racing than ever.