NASA is releasing a new image snapped by the famous Hubble Space Telescope every day this week, and the latest image published by the space agency highlights a spiral galaxy officially called NGC 6951.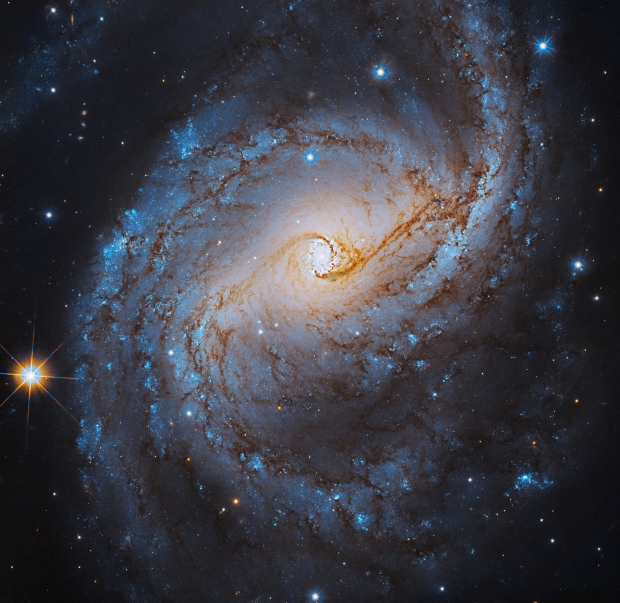 NASA has taken to its social media channels and its blog on its website to highlight NGC 6951, explaining the spiral galaxy is located approximately 78 million light-years away from Earth within the Cepheus constellation. This particular spiral galaxy is of interest to astronomers for its stellar history, with researchers estimating that the galaxy reached its peak of star formation around 800 million years ago, and then cooled down production for about 300 million years, only to start back up.
The space agency notes that the average age of star clusters, gravitationally bound groups of stars, is 200 to 300 million years old, while some are as old as one billion years. As for the colors in the image and what they represent - NASA writes dark red represents turbulent regions of gas, and bright blue pinpricks are star clusters. Furthermore, at its core, NGC 6951 harbors a supermassive black hole that is estimated to be 3,700 light-years across and features a ring of stars, gas, and dust.
"At the center of NGC 6951 lies a supermassive black hole surrounded by a ring of stars, gas, and dust about 3,700 light-years across. This "circumnuclear ring" is between 1 and 1.5 billion years old and has been forming stars for most of that time," said NASA
"Scientists hypothesize that interstellar gas flows through the dense, starry bar of the galaxy to the circumnuclear ring, which supplies new material for star formation. Up to 40 percent of the mass in the ring comes from relatively new stars that are less than 100 million years old. Spiral lanes of dust, shown in dark orange, connect the center of the galaxy to its outer regions, contributing more material for future star formation," wrote NASA
"Astronomers often classify NGC 6951 as a Type II Seyfert galaxy, a type of active galaxy that emits large amounts of infrared radiation and has slow-moving gaseous matter near its center. Some astronomers classify NGC 6951 as a low-ionization nuclear emission-line region (LINER) galaxy, which is similar to a Type II Seyfert galaxy but with a cooler nucleus that emits weakly ionized or neutral atoms like oxygen, nitrogen, and sulfur. The whole galaxy is about 75,000 light-years across, and since it is close to the northern celestial pole, it is visible from the northern hemisphere," added NASA