BenQ's latest 4K HDR projector might be the one to turn you away from that TV life to the world of having a massive 150-inch cinema screen at home. The new BenQ X3100i is the company's flagship Gaming Projector, sporting excellent and vibrant color accuracy, low input lag (4ms), built-in speakers, and console and app support in a compact size.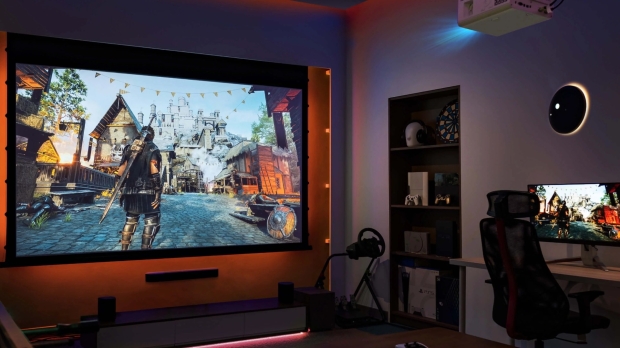 With BenQ's 4LED light source, you're also looking at a very bright projector capable of working in most environments thanks to the 3300 lumens of brightness - which also means better HDR quality. And with 100% coverage of the DCI-P3 color gamut and a 600,000:1 contrast ratio, the specs here are certainly tasty.
For those with the room or space to install a projector (and the BenQ X3100i Gaming Projector is portable enough to fit on a coffee table), it's worth considering - especially with different picture modes to suit different gaming genres and the ability to save and remember profiles for various consoles.
The four picture modes also adjust the audio tuning for the in-built speakers and are described as follows:
RPG Mode - Dive into cinematic realism with deep bass
SPG Mode - Amplified excitement with true colors and clear vocals
FPS Mode - To detect threats fast with enhanced dark detail and clear audio
RCG Mode - Realistic for fast motion with highlighted engine and road sounds
It all sounds great, so is there a catch? Sort of.
The 4ms response time is limited to the 1080p 240 Hz mode, with 4K being limited to 60 Hz and a 16ms response time - which is normal for 60 Hz. This comes down to the type of single-chip 4K DLP projection being used, which still needs to see the tech advance to 4K 120 Hz or the full HDMI 2.1 spec at this resolution. Those chips are still "coming soon."
4K 60 Hz is enough for most out there, especially with 100+ inches of cinematic immersion. Another nice little feature of the BenQ X3100i is the vertical lens shift, so you won't need to get the placement exactly right during the installation process. Plus, the long-life lamp with up to 30,000 hours.
The BenQ X3100i is expected to launch sometime in December with an MSRP of USD 2,399.
Here's a look at the specs.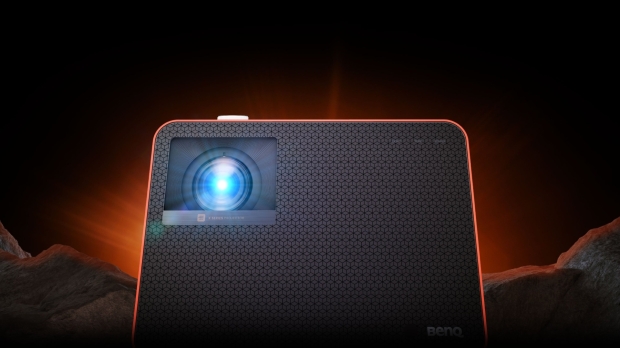 Brightness (ANSI lumens): 3300

Native Resolution: 4K UHD (3840×2160)

Native Aspect Ratio: 16:9

Contrast Ratio (FOFO): 600,000:1

Display Color: 30-bit, DCI-P3 Coverage (100%), Rec. 709 Coverage (95%)

Light Source: 4LED

Light Source Life: Normal 20000 hrs, ECO/SmartEco 30000 hrs

Keystone Adjustment: 2D, (Auto) Vertical ± 30 degrees; Horizontal ± 30 degrees

Lens Shift Vertical: 40%~60%

Picture Modes: 3D, Bright, Cinema, FPS, HDR FPS, HDR RCG, HDR RPG, HDR SPG, HDR10, RCG, RPG, SPG, User

Input Lag: 16.7 ms (1080p 60Hz), 16.7 ms (4K 60Hz), 16.7ms (2K 60Hz), 4.2 ms (1080p 240Hz), 8.3 ms (1080p 120Hz), 8.3ms (2K 120Hz)

Resolution Support: VGA (640 x 480) to 4K UHD (3840 x 2160)

I/O: HDMI in (x3), USB Type-A (x1)

Audio: Speaker (x2) 5W, 3.5mm Mini Jack, HDMI Audio Return, S/PDIF

Dimensions (WxHxD): 272 x 213 x 259mm (w/o Adjustment Feet)

Net Weight (kg): 6.8 kg

Typical Power Consumption: 330W