Space is a weird and wonderful place, and instruments that space agencies have put out into the void are constantly at work documenting anything of interest to researchers.
One of those instruments is the famous Hubble Space Telescope, which has been in operation for more than 30 years. Despite its age, Hubble is regularly used to snap extremely impressive and scientifically valuable images of the cosmos, with NASA highlighting one such image of a pair of interacting galaxies called Arp 107. NASA explains in a recent blog post that Arp 107 is a celestial object that is in the midst of a collision, with one Seyfert galaxy on the left and a smaller companion galaxy on the right.
Notably, a Seyfert galaxy is a galaxy that contains an active nucleus, or an active supermassive black hole at its center. NASA writes that it can observe Arp 107's spiraling whorls, which are areas of intense star formation, along with a "bridge" that's connected to the smaller companion galaxy. NASA explains that this "bridge" consists of dust and gas, and is a result of the gravity of the larger Seyfert Galaxy. Furthermore, Arp 107 resides approximately 465 million light years away from Earth.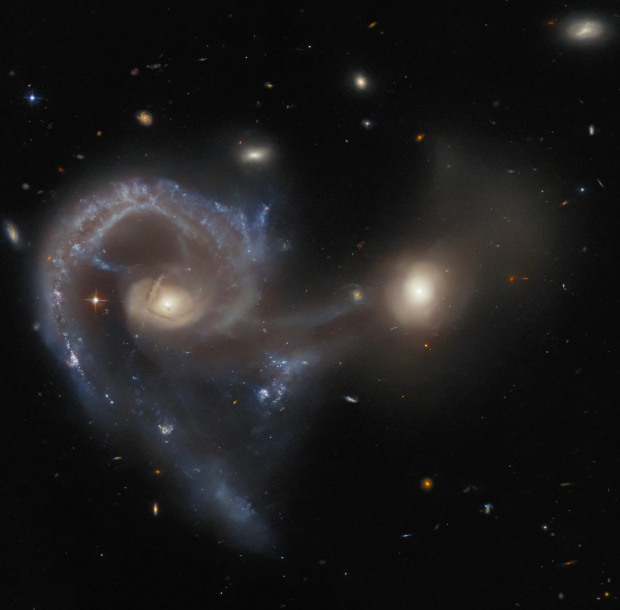 "The larger object (left) is an extremely energetic type of galaxy called a Seyfert galaxy. Seyfert galaxies house active galactic nuclei at their cores. Despite the active core's immense brightness, it does not saturate the image and mask details in the galaxy's structure. We can observe radiation from the entire galaxy, including its spiraling whorls, areas of star formation, and dust lanes. The whole galaxy is readily visible," writes NASA