Cyberpunk 2077's game-changing Update 2.0 is here. With the new expansion Phantom Liberty dropping next week, NVIDIA's latest GeForce Game Ready 537.42 WHQL driver adds full support for all of the new Night City 2.0 action - plus the arrival of DLSS 3.5.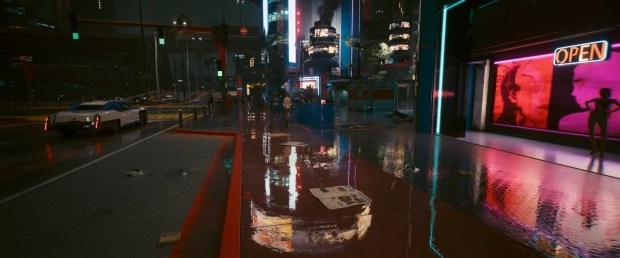 For a closer look at DLSS 3.5 in Cyberpunk 2077, which takes the already beautiful ray-traced visuals in the game to the next level, be sure to check out our in-depth look with images and video.
"A true game changer, and [it applies] to ray-traced effects as the more you play, the more you begin to pick up on," I wrote. "In 4K on a GeForce RTX 4090, with performance sitting at well over 60 fps for my entire playtime, the only way to describe DLSS 3.5 in Cyberpunk 2077 is that it feels like that first time you went from 1080p to 1440p or 1440p to 4K - it's all just crisper, smoother, more realistic, and ultimately more immersive. Plus, the game runs faster with DLSS 3.5 enabled."
Here's a look at Cyberpunk 2077: Phantom Libery with NVIDIA DLSS 3.5 and full ray tracing.
And here's a look at our DLSS 3.5 comparisons from playing the expansion and checking out Update 2.0.
DLSS 3.5 is currently limited to the game's RT Overdrive full ray-tracing mode, which does require a GeForce RTX 40 Series GPU to enable Frame Generation - with CD Projekt RED and NVIDIA noting that it's coming to Cyberpunk 2077's other RT modes sometime in the future.
With Ray Tracing: Overdrive Mode, it's very much a glimpse at the future, with the following NVIDIA benchmarks showcasing that Frame Generation is a must to hit this level of visual fidelity. The good news is that it works on everything from the GeForce RTX 4060 to the GeForce RTX 4090.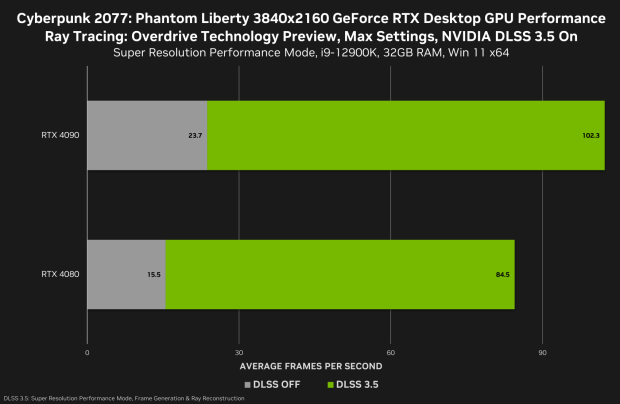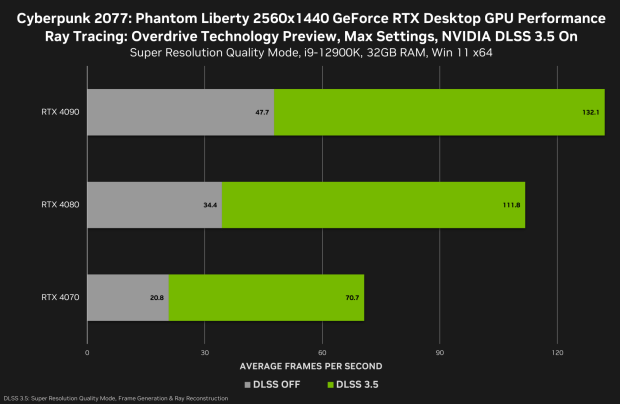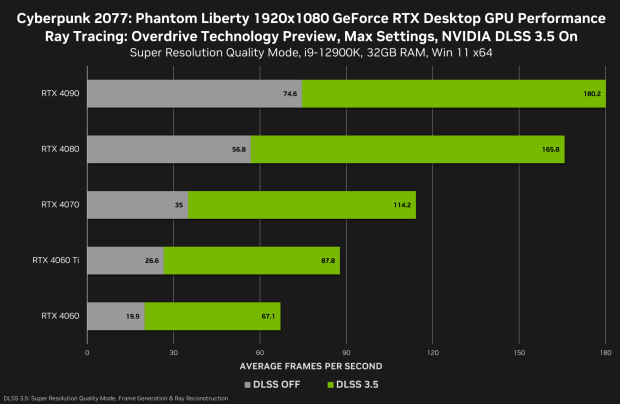 There's more to the GeForce Game Ready 537.42 driver than Cyberpunk 2077, as it also adds support for Party Animals (which is launching with DLSS 2), as well as Warhaven and Witchfire, which are arriving with support for DLSS 3. You can download the driver here or via the GeForce Experience app.