A senior developer over at CD Projekt Red has confirmed that the upcoming 2.0 update and Phantom Libery expansion for Cyberpunk 2077 will greatly increase CPU utilization for multi-core processors. The developer in question, Filip Pierściński, took to Twitter/X to confirm that those with 8-Core CPUs could see utilization hover at around 90%.
And with that, he warns players to "please check" the "cooling systems" in their PCs by running a CPU-intensive benchmark like Cinebench to ensure stability. And avoid a situation where Cyberpunk 2077 crashes their PC because the CPU has hit a thermal threshold.
The good news is that this multi-core support will make better use of Ryzen CPUs - where currently, players with AMD CPUs are resorting to using mods that better utilize Ryzen's multithreading capabilities. This should also lead to better Ryzen X3D performance, as 3D V-Cache is about leveraging multi-core performance.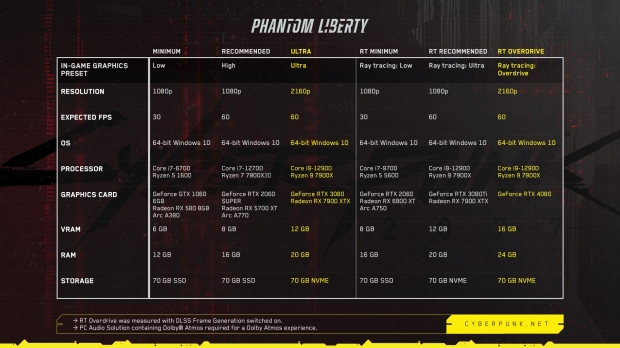 Cyberpunk 2077 is still one of the most demanding games for pushing GPU hardware on PC thanks to its impressive suite of real-time ray-traced effects - and this is set to be taken to the next level with the new update's addition of DLSS 3.5. Throw in better CPU utilization, and we could have better overall performance for those running a combination of AMD CPU and NVIDIA GPU hardware.
Cyberpunk 2077's Update 2.0 is a big one; it revamps the in-game policing system to make it more like GTA, improves enemy AI and combat mechanics, adds car combat, 100s of new items and weapons, new quests, and even totally redesigns the Skill Tree with new and redesigned skills and abilities. And this is separate from the paid Phantom Liberty expansion.
Here's a look at the fantastic New Ways to Play trailer for Cyberpunk 2077 Update 2.0 - just make sure your CPU cooler is ready.