Disney is celebrating a long 100 years of incredible storytelling with the release of what can only be assumed as its most expensive Blu-ray box set yet, the Disney Legacy Animated Film Collection.
According to a new report from The Wrap, Disney will be releasing the Disney Legacy Animated Film Collection on November 14, which will include 100 movies for a staggering price tag of $1,500. Only massive Disney fans will likely still be interested in the box set, which includes movies from both Disney and Pixar across three volumes. These volumes fold out into a storybook that takes buyers through Disney's animated studio history, showcasing original movie poster designs and digital codes for every movie.
Furthermore, the Blu-ray box set includes a lithograph from Disney's upcoming feature "Wish," a certificate of authenticity, and crystal Mickey Mouse ears that are engraved with "Disney 100". Looking at the certificate of authenticity, the box set also includes 18 Blu-ray discs with bonus content from Pixar. Pre-orders for Disney's biggest box set yet will become available at Walmart on September 18, and according to The Wrap, will be priced at $1,500.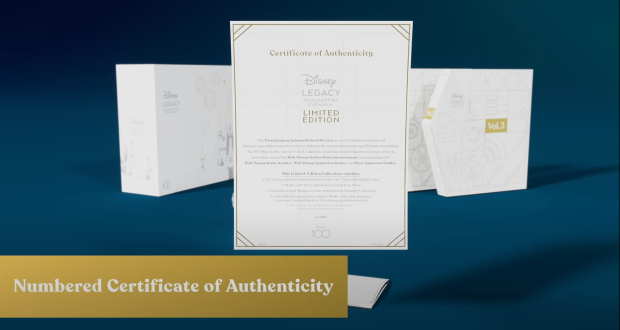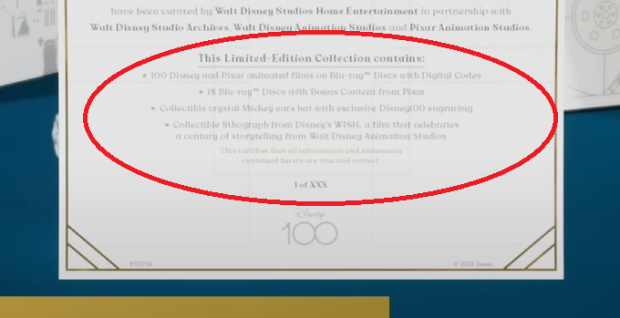 Every title included the Disney Legacy Animated Film Collection
1. Snow White and The Seven Dwarfs (1937)
2. Pinocchio (1940)
3. Fantasia (1940)
4. Dumbo (1941)
5. Bambi (1942)
6. Saludos Amigos (1943)
7. The Three Caballeros (1945)
8. Make Mine Music (1946)
9. Fun And Fancy Free (1947)
10. Melody Time (1948)
11. The Adventures of Ichabod and Mr. Toad (1949)
12. Cinderella (1950)
13. Alice in Wonderland (1951)
14. Peter Pan (1953)
15. Lady and the Tramp (1955)
16. Sleeping Beauty (1959)
17. One Hundred and One Dalmatians (1961)
18. The Sword in the Stone (1963)
19. The Jungle Book (1967)
20. The Aristocats (1970)
21. Robin Hood (1973)
22. The Many Adventures of Winnie the Pooh (1977)
23. The Rescuers (1977)
24. The Fox and The Hound (1981)
25. The Black Cauldron (1985)
26. The Great Mouse Detective (1986)
27. Oliver & Company (1988)
28. The Little Mermaid (1989)
29. The Rescuers Down Under (1990)
30. Beauty and the Beast (1991)
31. Aladdin (1992)
32. Tim Burton's The Nightmare Before Christmas (1993)
33. The Lion King (1994)
34. A Goofy Movie (1995)
35. Pocahontas (1995)
36. Toy Story (1995)
37. James and the Giant Peach (1996)
38. The Hunchback of Notre Dame (1996)
39. Hercules (1997)
40. Mulan (1998)
41. A Bug's Life (1998)
42. Tarzan (1999)
43. Toy Story 2 (1999)
44. Fantasia/2000 (2000)
45. The Tigger Movie (2000)
46. Dinosaur (2000)
47. The Emperor's New Groove (2000)
48. Atlantis: The Lost Empire (2001)
49. Monsters, Inc. (2001)
50. Return to Never Land (2002)
51. Lilo & Stitch (2002)
52. Treasure Planet (2002)
53. The Jungle Book 2 (2003)
54. Piglet's Big Movie (2003)
55. Finding Nemo (2003)
56. Brother Bear (2003)
57. Home on the Range (2004)
58. The Incredibles (2004)
59. Pooh's Heffalump Movie (2005)
60. Chicken Little (2005)
61. Cars (2006)
62. Meet the Robinsons (2007)
63. Ratatouille (2007)
64. Wall•E (2008)
65. Tinker Bell (2008)
66. Bolt (2008)
67. Up (2009)
68. The Princess and the Frog (2009)
69. Toy Story 3 (2010)
70. Tangled (2010) 

71. Cars 2 (2011)
72. Winnie the Pooh (2011)
73. Brave (2012)
74. Frankenweenie (2012)
75. Wreck-It Ralph (2012)
76. Monsters University (2013)
77. Planes (2013)
78. Frozen (2013)
79. Planes: Fire & Rescue (2014)
80. Big Hero 6 (2014)
81. Inside Out (2015)
82. The Good Dinosaur (2015)
83. Zootopia (2016)
84. Finding Dory (2016)
85. Moana (2016)
86. Cars 3 (2017)
87. Coco (2017)
88. Incredibles 2 (2018)
89. Ralph Breaks the Internet (2018)
90. Toy Story 4 (2019)
91. Frozen 2 (2019)
92. Onward (2020)
93. Soul (2020)
94. Raya and the Last Dragon (2021)
95. Luca (2021)
96. Encanto (2021)
97. Turning Red (2022)
98. Lightyear (2022)
99. Strange World (2022)
100. Elemental (2023)