Starfield, like all Bethesda games, will punish you for carrying too much stuff. Here's a good way to get around this limitation.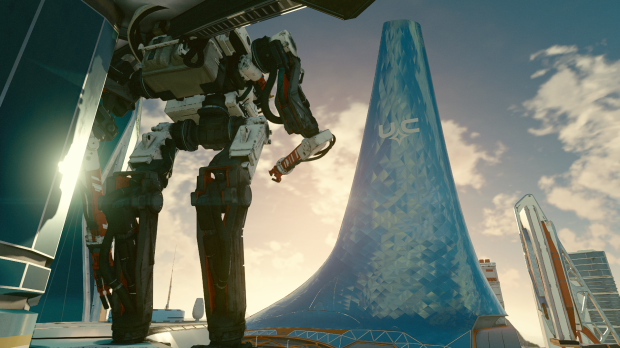 Starfield is all about surpassing limitations and breaking barriers. Most of the early game is inhibited by a fair amount of restriction and players are pushed towards finding solutions in the form of gear and skill upgrades. Here's a quick way to use gear to turn around the pesky issue of being overburdened.
Now to get something out of the way first: Starfield's weight management system is actually pretty great...provided you know how to manipulate it. Unlike other games, Starfield doesn't make you move immensely slowly (or stop you outright) if you're carrying too much weight. Instead, the game will just drain your 02 really fast every time you move. Run out of 02 and incur too much C02 and you die.
So weight management actually turns into a little mini-game where you're actually managing your O2 usage efficiency. This means we want to shoot for specific gear that can help us boost how well we use our oxygen.
Early on in the game, you can come across the secret Mantis Outpost mission. Check out this video for a breakdown.
At the end of the quest, you will be rewarded with a full suit of legendary grade armor. This includes a helmet, a spacesuit, and a boostpack. All three of these items can roll 3x separate stats. The cool thing about this set is that it's in an armor chest that re-rolls every time. So once you get to the armor rack, be sure to save your game with a hard save and then save scum until you get the perfect roll.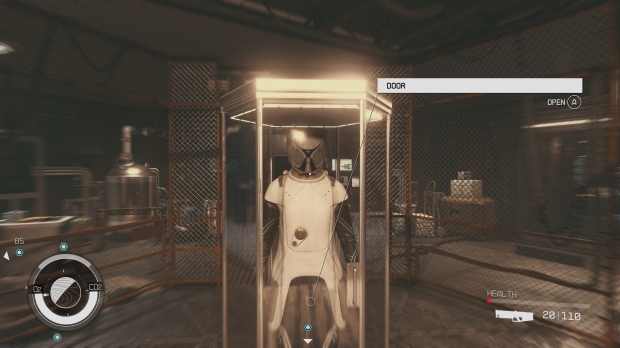 Since we're trying to optimize 02 usage and weight management, we want to shoot for the following stats across the pieces:
Mechanized: +40 carrying capacity (spacesuits), maxes out at +20 on packs

02 Boosted: +20% oxygen capacity

Assisted Carry: Drain 75% less 02 when running while encumbered.

02 Filter: -25% oxygen consumption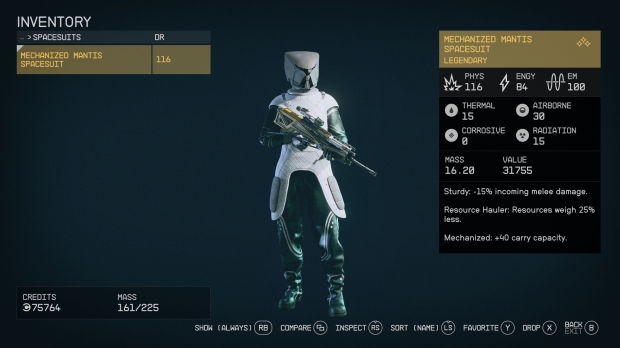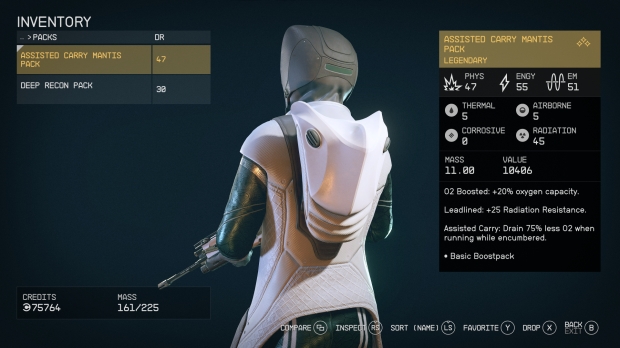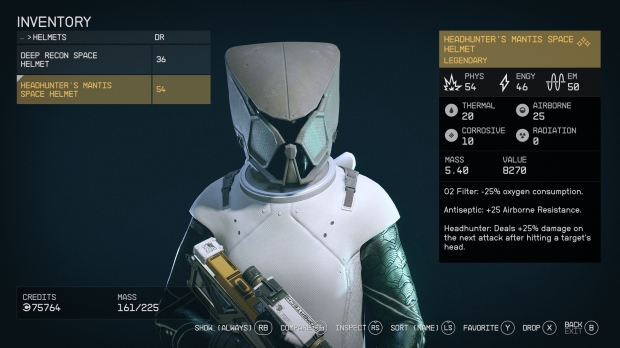 The set of armor is found in the Denebola system, which is by Cheyenne, on planet Denebola I-b.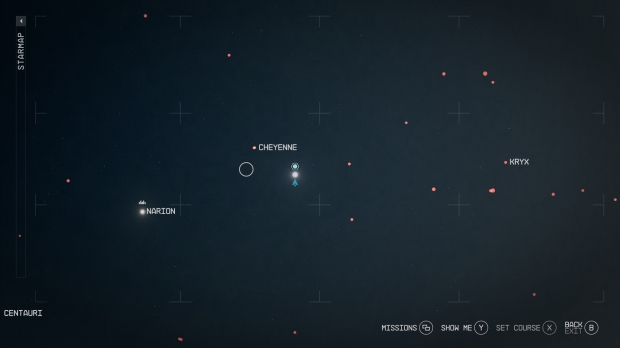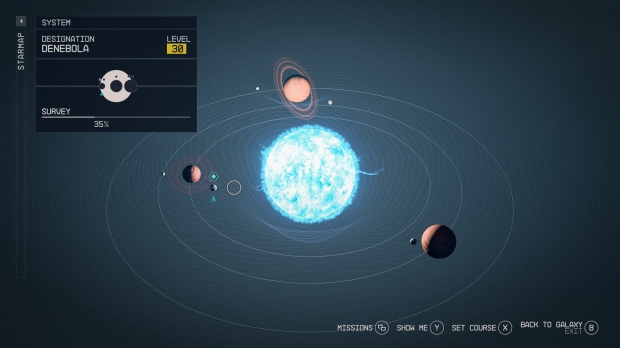 NOTE: You must pick up the armor for the stats to save. If you get a god roll, don't pick up the armor, and save your game, the armor will be re-rolled when you reload the game.
It's possible to get an incredible god roll if you have the patience to reload all those times, including having all of the aforementioned stats plus the Chameleon stat (makes you invisible when you stand still).
Trust me, once you get this gear with these stats, you won't really have to worry about being encumbered. You won't run out of 02 very easily, and the extra +40 capacity might look great on paper, but really you are only getting an added ~7kg bonus considering the full set weighs over 32kg when equipped.
Being able to not only move but sprint while encumbered with a ridiculously oversized inventory is one of the most freeing things I've felt in a Bethesda game and I wanted to share this with everyone.