Respawn Entertainment has released Jedi Survivor's biggest patch yet that takes aim at optimization on all platforms.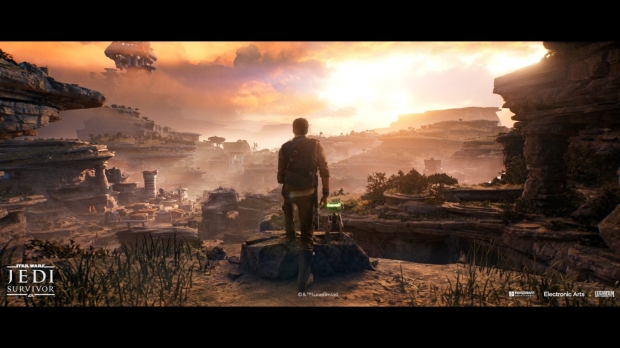 Today Respawn released Patch 7 for Jedi Survivor, addressing key concerns about the game's overall performance on consoles and PC. The PlayStation 5 and Xbox Series X/S version was received well, but the PC port was widely criticized for its numerable issues. This latest patch is a direct response to those problems.
Patch 7 introduces a bunch of tweaks and overhauls to performance including better frame rates on consoles and the addition of NVIDIA's DLSS tech on PC. Jedi Survivor now runs at a 'solid' 60FPS on PlayStation 5 and Xbox Series X/S when in performance mode--a feat that was achieved by removing ray tracing in the mode as well as refining how the game stresses GPU and CPU workloads.
The biggest addition in Patch 7 is the inclusion of DLSS support on PC. While the patch is still new and testing needs to be done, RTX video card owners should be able to expect a nice improvement.
Jedi Survivor now also supports Variable Refresh Rate on PlayStation 5 via compatible displays (HDMI 2.1 is required). This effectively further tightens a game's performance to a monitor's refresh rate. Also remember the PS5 now supports VRR 1440p displays so you can hit that performance sweet spot.
Respawn has something for gamers who value graphics and visuals over faster FPS, too. The devs have upgraded Jedi Survivor's Quality Mode to "reduce FPS fluctuation and introduce other visual improvements."
Check below for a full list of patch notes for Patch 7:
Patch 7 Details - September 5

Patch 7 for Star Wars Jedi: Survivor arrives today for PC, PlayStation 5, and Xbox Series X | S.

Here are the fixes you can expect with this patch:

This patch introduces several performance-related improvements* on PlayStation 5 and Xbox Series X/S including:

Performance mode has been completely reworked to substantially improve player experience.

A number of GPU and CPU optimizations - along with disabling Ray Tracing - has resulted in a better player experience, including a solid 60 FPS in Performance mode.

Quality Mode has also received optimizations to help reduce FPS fluctuation and introduce other visual improvements.

Variable Refresh Rate support added for PS5.

Additional performance & optimization improvements for PC, including DLSS support.

Save system tweaks to help prevent save game corruption.

Fixed issues where players could not retrieve their XP after dying under certain circumstances.

Various crash fixes.

Various bug fixes & improvements across all platforms, including fixes for cloth, lighting, and UI.

* Note: Cinematics in Star Wars Jedi: Survivor on console are locked to 30 frames per second.

Thank you all for the continued support you've given Star Wars Jedi: Survivor while we've been hard at work on patches. As always, let us know if you run into any additional issues.