Corsair's Scimitar gaming mouse has been a go-to for MOBA and MMO players thanks to its many buttons, ergonomic feel, and excellent hardware. We reviewed the Corsair Scimitar RGB Elite back in 2020, where it earned our Editor's Choice award - so it's great to see Corsair bringing the mouse back with the new Corsair SCIMITAR ELITE WIRELESS MMO Gaming Mouse.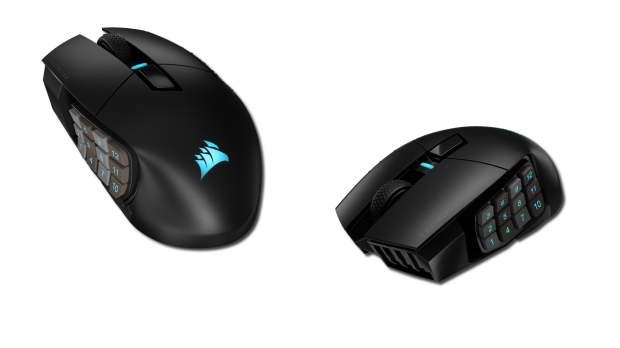 Per the naming, the big difference here is that Corsair has taken its popular MOBA and MMO gaming mouse and gotten rid of the wires for low-latency wireless connectivity. Feature-wise, you're looking at 16 programmable buttons in total, with the 12-button Key Slider side panel offering the bulk of the controls, ala the wired Scimitar - and textured side grips for added comfort.
Adjusting and moving the placement of the side buttons makes it a great choice for those MMO and MOBA players who need quick access to a massive hot bar filled with skills and abilities to trigger.
Going wireless, the SCIMITAR ELITE WIRELESS MMO Gaming Mouse will use Corsair's sub-1ms SLIPSTREAM WIRELESS technology (with a super-fast 2,000 Hz polling rate) for low-latency performance alongside Bluetooth support for added versatility. Corsair notes that in Bluetooth mode, with the lighting turned off, you can get around 150 hours of battery life, with the mouse fully charging within 90 minutes.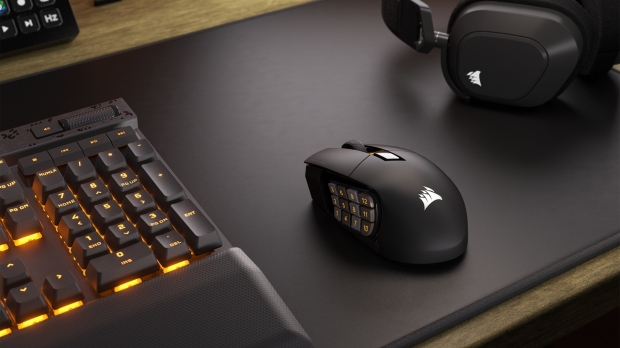 Sensor-wise, it uses the CORSAIR MARKSMAN 26K DPI optical sensor, which represents an upgrade over the wired version with optical switches guaranteed for 100 million clicks. And with multiple RGB lighting zones (including backlighting for the side buttons), you've got full CORSAIR iCUE software integration with the bonus of three onboard profiles to store.
Although the product page for the Corsair SCIMITAR ELITE WIRELESS MMO Gaming Mouse is live, it's currently listed as being out-of-stock - so as of writing, the price is TBC. With the wired version being an excellent choice for MMO gaming, odds are the SCIMITAR ELITE WIRELESS will be equally as impressive - so here's hoping the price is enough to justify the plunge.