Digitec Galaxus AG is the largest Swiss online retailer covering all corners of the tech and electronics sector. Over the weekend, some new data (via @TechEpiphany) relating to failure rates for graphics cards (GPUs) and the RMA process measured in the time between a warranty claim being made and a working unit being back in the hands of a customer appeared online.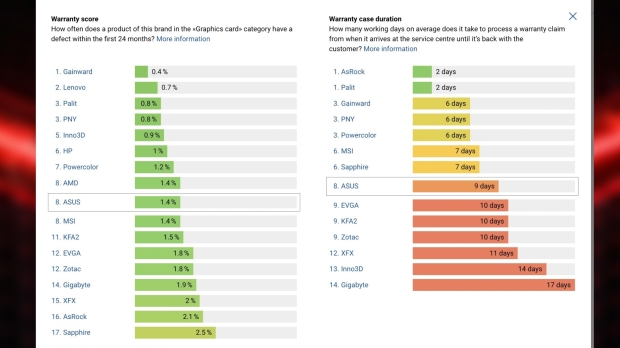 Like all PC hardware, GPUs can fail - regardless of brand, model, or price point. This makes a company's warranty and claim process, and the timely and helpful manner in dealing with customers and issues, something to consider before any purchase. The data coming from a single retailer in a single market is not representative of the entire global market. In addition, without sales figures for each brand listed, it's more of an indication of what to expect versus a tier list of the best GPU manufacturers in 2023.
That said, the data covers brands that have sold over 300 GPUs over the last two years - and based on the wide range of products on offer by Digitec Galaxus AG could also include workstation graphics cards in addition to those built for PC gaming in the desktop space.
According to the Warranty score, which covers a percentage of products from a company with a recorded defect within the first 24 months, Gainward leads the charge with a 0.4% defect rate, followed by Lenovo at 0.7% and Palit and PNY at 0.8%. Rounding out the top five is Inno3D, with a respectable 0.9%.
Of course, with any chart like this, you'll immediately go to the lower-end to see which GPU brand features the most defects. According to the data (and again, this is from a single market and a single retailer), the worst offenders are Sapphire with a 2.5% defect rate, followed by ASRock at 2.1%, XFX at 2%, GIGABYTE at 1.9%, and EVGA and Zotac at 1.8%.
The defect rate only tells one part of the story as the data also includes figures for Warranty case duration, so even though Inno3D has one of the lowest defect rates, its 14-day claim duration sits on the high-end, behind GIGABYTE at 17 days. According to the data, ASRock and Palit offer the best Warranty claim service, with products back in customers' hands within 2 days.
The two biggest brands in the GPU space, ASUS and MSI, are included in the list, with both sitting somewhere in the middle across both charts, tied with a 1.4% defect rate.