With a staggering $13.5 billion in revenue for Q2 2024, a figure up 101% from a year ago and 88% from the previous quarter, it certainly looks like the AI boom has been going well for NVIDIA, so much so that this figure is a couple of billion dollars higher than Wall Street projections for NVIDIA's earnings for the quarter, which were already super high thanks to the growing demand for NVIDIA's data center hardware for AI.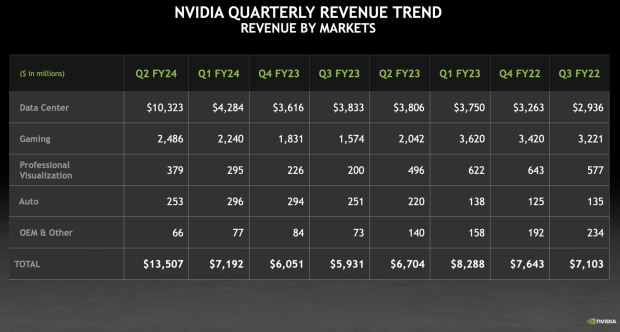 For the $13.5 billion in revenue, $10.3 billion came from the data center sector due to the unprecedented demand for AI chips. NVIDIA's Gaming sector, which covers GPUs and the GeForce line-up, saw its revenue climb to nearly $2.5 billion - an 11% increase over the previous quarter and a 22% increase over the same period a year ago.
The Gaming sector used to be NVIDIA's main revenue driver. Still, these results show that data centers and AI utilizing Hopper H100, Ampere A100, and HGX systems have driven NVIDIA's revenue, profits, and share price to record highs. NVIDIA made over $6 billion in profit in Q2 2024, representing an 843 percent year-over-year increase.
"A new computing era has begun. Companies worldwide are transitioning from general-purpose to accelerated computing and generative AI," said Jensen Huang, founder and CEO of NVIDIA. "NVIDIA GPUs connected by our Mellanox networking and switch technologies and running our CUDA AI software stack make up the computing infrastructure of generative AI."
"During the quarter, major cloud service providers announced massive NVIDIA H100 AI infrastructures," he adds. "Leading enterprise IT system and software providers announced partnerships to bring NVIDIA AI to every industry. The race is on to adopt generative AI."
And this is a taste of things to come, as NVIDIA predicts that Q3 will see this record number grow to a staggering $16 billion. With NVIDIA set to launch its AI chips with HBM3e memory in 2024, it also plans to significantly increase the volume of AI GPUs it produces over the next year.
AI is driving the industry right now, and with companies like AMD and Intel playing catch-up - with AMD's MI300 set to arrive later this year or early 2024 - NVIDIA's meteoric data center growth dwarfs what we saw during the crypto-mining boom.