At Computex 2023, we got our first look at NVIDIA ACE, a custom AI model designed to power NPCs in open-world role-playing games - or titles where there's a lot of walking up and talking to people. The demonstration was impressive, with an Unreal Engine 5 tech demo with high-end RTX effects showcasing a futuristic ramen shop owner named Jin you can talk to in a world heavily inspired by Cyberpunk 2077.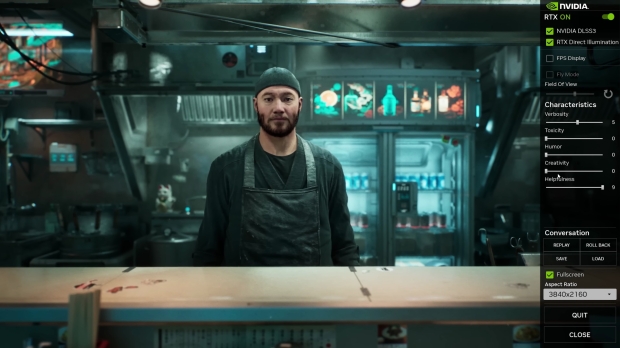 The idea behind NVIDIA ACE is for developers to create NPCs within an established world, flesh them out with detail, and then let AI handle dialogue and engage with players in a way that feels real.
In the demos, we see interaction carried out via microphone, adding a layer of NPC interaction not seen in a game before - even if the dialogue, animation, and vocal performance are a little stilted, it's a fascinating glimpse into the future. And in the time between Computex 2023 and Gamescom 2023, NVIDIA has continued to work on the NVIDIA ACE demo. The latest update sees the inclusion of NVIDIA NeMo SteerLM for developers.
According to NVIDIA, most LLMs are designed to provide the ideal response, free from personality and emotion - which is why you can always tell when interacting with a chatbot. SteerLM was designed to add some humanity to each AI creation, with the LLMs "trained to provide responses aligned with particular attributes, ranging from humor to creativity, to toxicity."
And with that, developers using ACE will be able to use various sliders covering these attributes and emotional traits to add more depth to each NPC created. Here's a demonstration of NVIDIA NeMo SteerLM and what it brings to the table.
What's particularly fascinating is that the system isn't simply something assigned and configured for each individual character, as developers will be able to assign attributes to factions so each character within a single group will share similar beliefs - and they can all adapt and change their behavior according to changes within the game environment - be it a story development or player choice.
"The SteerLM technique helps turn polite chatbots into emotive characters that will enable developers to create more immersive and realistic games," NVIDIA writes in the update. "We can't wait to show you our next ACE breakthroughs."