At Flash Memory Summit 2023, Silicon Motion was on hand to showcase several new products - one of which was the new SM2508 client PCIe Gen5 SSD controller on track to launch sometime next year. With power consumption as low as 3.5W, the new 8-Channel SM2508 controller (3600 MT/s per channel) can also deliver sequential read and write speeds of up to 14 GB/s with capacities of up to 8TB. Impressive stuff.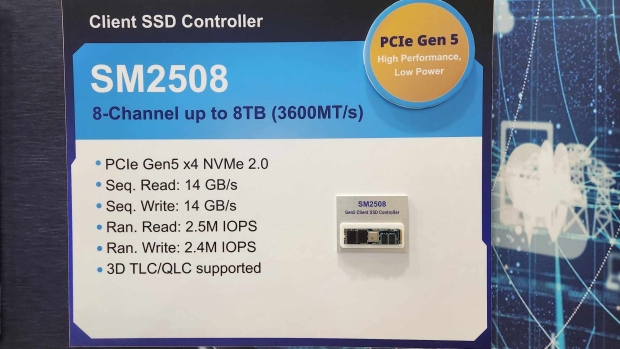 Some of the fastest 3D NAND devices available today feature a 2400 MT/s interface to use PCIe 5.0 x 4 fully - so the shift to 3600 MT/s will usher in a new range of next-gen SSDs. Throw in random read-and-write numbers in the 2.5 million IOPS range, with support for 3D TLC/QLC; it's proof that there's still more ground to break in the world of PCIe Gen5 storage.
With fast PCIe Gen5 SSDs in 2023 often requiring additional power and even active cooling solutions, the SM2508 platform should see more high-speed Gen5 options arrive in the desktop and notebook space with more efficient designs.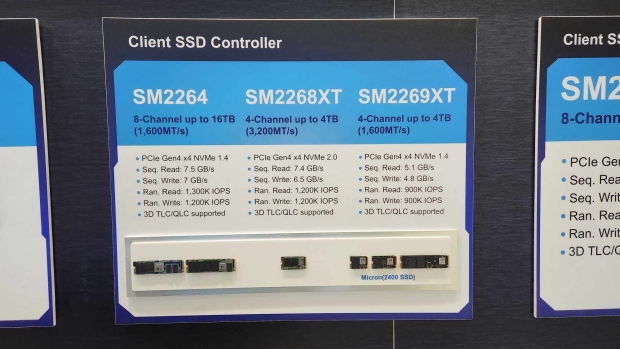 Other products showcased by Silicon Motion at Flahs Memory Summit 2023 include the tiny Dramless 2268XT due for release later this year, a new 4-Channel SSD controller for high-speed PCIe Gen5 SSDs. Silicon Motion showcased a prototype listing a sequential read speed of 7.4 GB/s and a sequential write speed of 6.5 GB/s; the company demonstrated these speeds in person via benchmarks.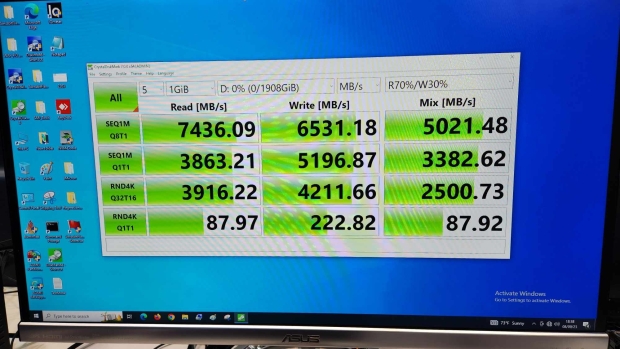 Silicon Motion's Flash Memory Summit 2023 presence covered everything from developments for enterprise and data centers to the latest client solutions coming, like the new SM2508 SSD controller.