Rockstar's best-selling Grand Theft Auto franchise has now generated over $8.4 billion in revenues since GTA V's release.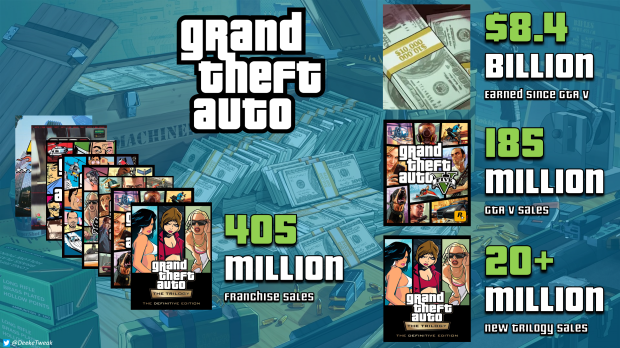 Take-Two Interactive's latest Q1'24 financials give key updates on the company's performance, including refreshed figures for the Grand Theft Auto series. According to the data, the GTA franchise has made over $8.4 billion in total revenues since Grand Theft Auto V's launch in September 2013, driven primarily by GTA V game sales and in-game spending on GTA Online microtransactions.
In Q1 Fiscal Year 2024, the GTA series made $175 million, primarily driven by GTA V and GTA Online. While this is on the lower side of earnings and represents the lowest GTA revenues for a Q1 period in the last 4 years, Take-Two executives still believe the earnings beat their expectations.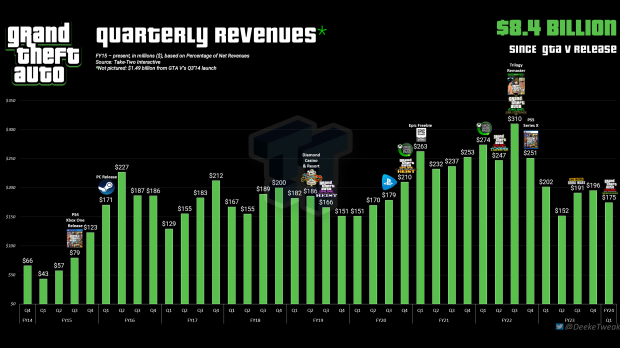 GTA V recently broken 185 million sales worldwide and represents nearly 10 years of game sales across three console generations as well as PC. Total GTA franchise sales are now at 405 million, up 5 million from last quarter, and GTA V is delivered the bulk of this growth. Matching this up with quotes from Take-Two management, we see that GTA Online is a consistent driver of the quarterly earnings, but it's also important to remember that these figures include the entire GTA franchise.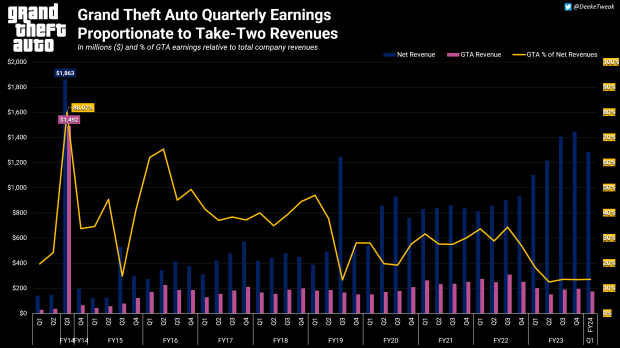 The more recent and controversial GTA trilogy collection propped up sales and revenues for a period, with the series hitting second all-time quarterly high of $310 million (the biggest period of GTA revenues in the history of the franchise was during GTA V's launch in Q3'14, which generated an incredible $1.49 billion).
GTA VI, the next game in the series, is telegraphed to launch sometime in FY25 and a holiday 2024 launch is indeed possible.