Grand Theft Auto V has now sold-in, or shipped, 185 million copies worldwide, Take-Two Interactive has announced.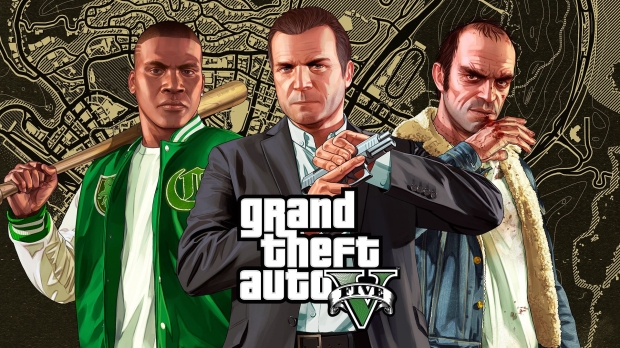 Today, Take-Two Interactive announced strong Q1'24 earnings and gave key updates on game sales figures. According to the latest report, Rockstar Games' landmark Grand Theft Auto V has now sold-in over 185 million copies across three console generations--Gen7, Gen8, and more recently on Gen9 with the PlayStation 5 and Xbox Series X/S versions.
This milestone has also pushed total Grand Theft Auto franchise sales past 405 million lifetime-to-date.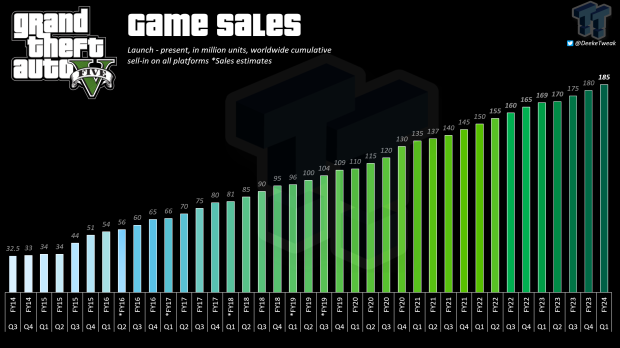 Grand Theft Auto V's latest sales continue the game's long-running streak of hitting 5 million shipments per quarter. While actual sell-through remains unknown, it's worth noting that both GTAV and GTA Online once again outperformed in Q1'24 and drove a considerable part of quarterly net bookings thanks to consistent sales and monetization.
GTA V was also just added to Xbox Game Pass, but that was on July 5, so sales and microtransaction revenues are not included in Take-Two's Q1'24 results (this period ended on June 30, just before GTA V's inclusion on XGP).
Rockstar plans to release the new GTA Trilogy collection on mobile sometime soon, so we should also see that release potentially affect total GTA revenues.
"We had a strong start to the fiscal year and achieved Net Bookings of $1.2 billion, which was at the high-end of our expectations. Our performance was led by our catalog of iconic, industry-leading intellectual properties, which continues to resonate with our player communities worldwide," said Strauss Zelnick, Chairman and CEO of Take-Two.