The one-of-one Magic: The Gathering "One Ring" card has been found and sold to rapper Post Malone for an astonishing $2.6 million
Brook Trafton was the lucky individual that pulled the extremely rare "One Ring" Magic: The Gathering card. Trafton identified that he had the card in July and that he acquired it from a booster pack. For those that don't know, the "One Ring" card is part of a "Lord of the Rings" crossover set that merged J.R.R Tolkien's legendarium with the Magic: The Gathering universe.
Unlike the other versions of the One Ring card, the ultra-rare version was that was sold to Post Malone has text that is featured entirely in black speech, the language of Mordor. According to enthusiasts of the Hasbro tabletop game, the chances of pulling the ultra-rare card are 0.00003%. As for the bids for the card, a card shop owner in Buffalo, NY offered $1 million, which was then out bidded by a $2 million offer from Spain.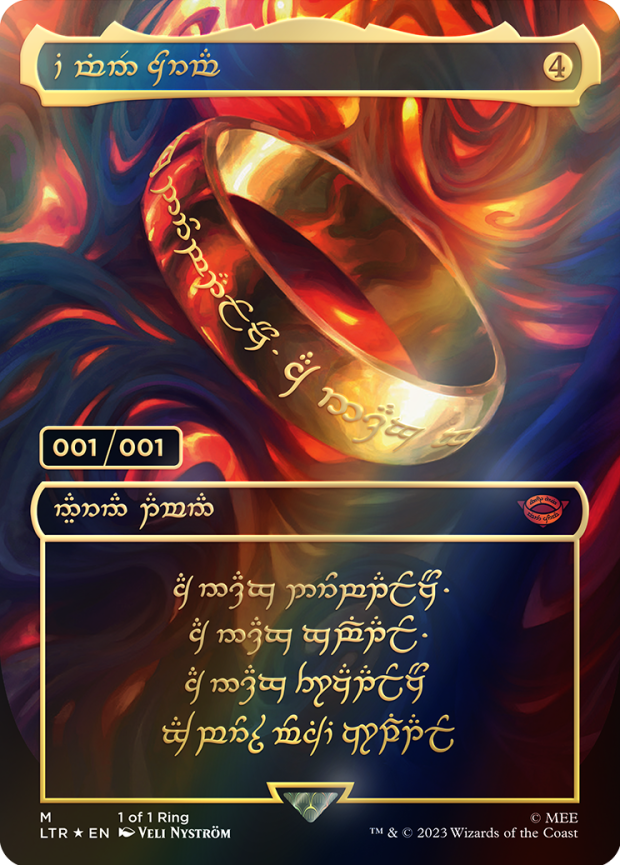 "When I found the One Ring, the first person who came to mind was Post Malone. I have played MTG since I was a kid and obviously, it would be amazing to keep this card. But for a guy like me, being able to sell it is life-changing. I just really hoped it would go to someone who would appreciate it as much as I do. This is my dream come true, meeting Post Malone and him buying the One Ring card from me is literally a moment straight out of a fairytale," Trafton wrote on his Tiktok caption.
Both of these offers were declined, and Trafton decided to sell the card to Post Malone, who met him in person to make the transaction. Post Malone is no stranger to expensive collectibles as the rapper previously spent $800,000 on an "artist print, Chris Rush-signed Black Lotus."
Collectible grading firm PSA verified the authenticity of the One Ring card in June and scored it a "Mint 9".