Netflix's password sharing gambit has paid off big time as subscribers grow by the millions.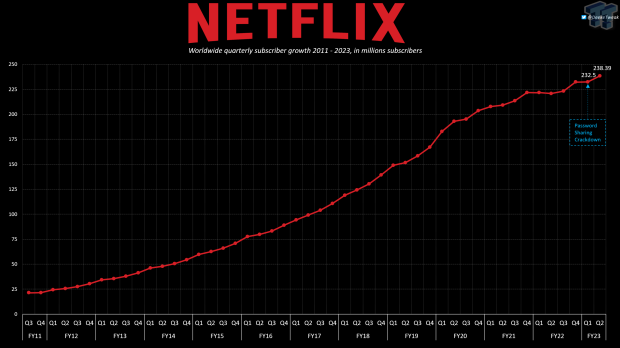 A bit ago, Netflix announced that it would no longer allow users to share passwords with people who live outside of their primary home location. In an effort to maximize revenues, the streamer revealed pricing plans to add members to their subscriptions. Gone are the days of being able to leech off of a family member's or ex's subscription.
The move sparked widespread controversy, however it was indeed effective. Netflix's worldwide subscriber counts rose by over 6 million users following the password sharing crackdown. In Q1 2023, Netflix had 232.5 million subscribers, and in Q2 2023, shortly after the new policy went into effect, Netflix subscribers rose to 238.4 million. The addition of subscribers also reflects the relatively new ad-based streaming tier.
In a recent Q2 2023 earnings call, Netflix CFO Spencer Neumann says most of the company's revenue growth was driven primarily by the new content sharing plans:
"So most of our revenue growth this year is from growth in volume through new paid memberships, and that's largely driven by our paid sharing rollout. It is our primary revenue accelerator in the year and we expect that impact, as Greg said, to build over several quarters. So that's what we're seeing in each of our regions and in UCAN. So UCAN is a little bit more benefit from ads per since it's a bigger advertising market, but still very, very small overall because it's still nascent to the business," Neumann said.
Netflix ended the quarter with $8.18 billion in revenues and $1.82 billion in operating income, representing an operating margin of 22%. Net income was $1.48 billion after taxes and expenses.