The first 16GB RDNA 3 GPU from AMD for its Radeon RX 7000 Series won't be the upcoming Radeon RX 7800 rumored to launch in September. Instead, it will be the new Radeon RX 7900 GRE (Golden Rabbit Edition) for the Chinese market. According to a post from leaker @momomo_us, it's set to launch on July 28 and will be a cutdown version of the Radeon RX 7900 XT.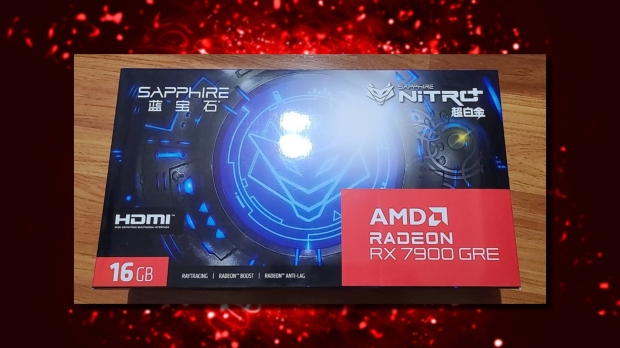 The Radeon RX 7900 GRE is a brand-new SKU for the line-up, with 84 Compute Units and 16GB VRAM across a 256-bit memory bus - information obtained from images showcasing the new Sapphire RX 7900 GRE NITRO+ model. As a cutdown model, the GPU will feature a slimmer build and could be some sort of Navi 31/32 hybrid.
AMD has yet to officially announce the Radeon RX 7900 GRE as a new option for Radeon GPUs, and so far, there's no indication that the GPU will be released globally, so that it could be something purely for the Chinese market. With no reference model, AMD could be testing the waters to gauge interest in a third Radeon RX 7900 variant.
Still, the idea of a more affordable Radeon RX 7900 XT graphics card with 16GB of VRAM is an exciting one, as one of the big criticisms for the 7900 XT is that its price point and performance make the Radeon RX 7900 XTX a more appealing option.
According to reports, the Radeon RX 7900 GRE will also feature a 300W TGP (via two 8-pin PCIe power connectors) and the same clock speeds as the Radeon RX 7900 XT, with the difference coming down to memory - a 20% lower 640 GB/s of bandwidth. We'll have to wait and see how this impacts performance, though we'd wager the difference won't be huge.