Antstream, the game streaming subscription service that offers over 1400 classic games, is coming to Xbox.
In a timely move, Microsoft has teamed up with a third-party cloud gaming subscription service provider to bring classic games to Xbox. The service is called Antstream, and it offers over a total of 1,470 games across a variety of retro platforms, the bulk of which are from the old-school floppy disc and cassette era of the early 80s. Antstream offers an interesting time capsule for Xbox gamers to explore.
Antstream is coming to Xbox on July 20, and will cost $29.99 per year, or gamers can subscribe for lifetime access for $79.99. The games will be streamed directly to Xbox consoles.
Check below for a full list of games offered on Antstream.
Antstream Arcade is the largest Retro Gaming platform with the biggest catalog of classic games that can be streamed straight to you. The Arcade is constantly being updated with new games, challenges, features, and game modes. This purchase gives you a full year's access and can be extended with 1-year subscription.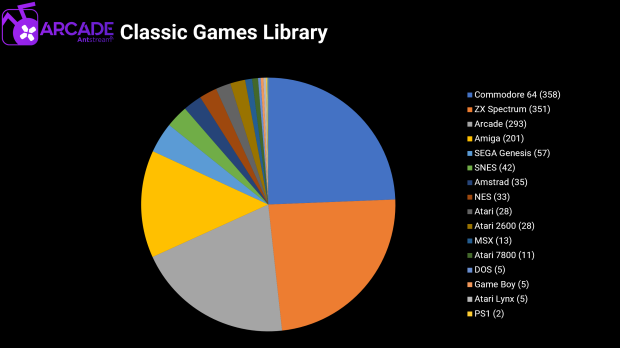 Commodore 64 - 358 games
Aftermath

I-Alien

Rad Warrior

Alleykat

Implosion

Ranarama

Anarchy

Impossible Mission

Rattler

Ancipital

Impossible Mission II

Real Stunt Experts

Aqua Racer

Insects in Space

Rebounder

Arc of Yesod

Iridis Alpha

Reckless Rufus

Arcadia

Jack and the Beanstalk

Renegade III: The Final Chapter

Armalyte

Jack the Nipper

Return of the Mutant Camels

Armalyte: Competition Edition

Jack The Ripper

Revenge of the Mutant Camels

Artura

Jet Boot Jack

Rik the Roadie

Astro Chase

Jumpman

River Rescue

Attack of the Mutant Camels

Jumpman Jnr

Robin Of The Wood

Auf Wiedersehen Monty

Kamikaze

Rogue

Avenger: Way of the Tiger II

Kentucky Racing

Rollin

Barbarian / Death Sword

Kick Off

Rugby Boss

Batalyx

Killing Machine

Run for Gold

Battle Island

Krakout

Runn 'n' Gunn

Battle Valley

Kwik Snax

Saboteur

BC Bill

Laser Zone

Saracen

Bee 52

Law of the West

SAS Combat Simulator

Bigfoot

Lazer Force

Scare Bear

Black Magic

League Challenge

Scary Monsters

BMX Freestyle Simulator

Lee (originally named Bruce Lee)

Scorpion

BMX Ninja

Legend of the Knucker-Hole

Scorpius

Bmx Simulator

Lethal

Sheep in Space

Bobsleigh

Life-Term

Shoot Out

Bombo

Lifeforce

Sidewalk

Boulder Dash

Little Puff In Dragonland

Sidewize

Boulder Dash II: Rockford's Revenge

Magic Rufus

Silicon Warrior

Boulder Dash III

Magicland Dizzy

Skatin' USA

Bounder

Mama Llama

Sky High Stuntman

Break Dance

Mandroid

Slayer

Bristles

Marauder

Slicks

Bubble Ghost

Maze Mania

Slightly Magic

Bugsy

Mean Machine

Slug

Bulldog

Mediator

Snare

Captain Dynamo

Mega Apocalypse

Snoball in Hell

Castle of Terror

Meganova

Snodgits

Cauldron

Metabolis

Snooker

Cauldron II: The Pumpkin Strikes Back

Metagalactic Llamas

Soccer Boss AKA The Boss

Cavemania

Metranaut

Soccer Challenge

Championship Wrestling

Microball

Space Doubt

Chip's Challenge

MiG-29: Soviet Fighter

Speedball

CJ In The USA

Millie & Molly

Spellbound Dizzy (Dizzy 5)

CJ's Elephant Antics

Mission A.D.

Spellfire the Sorcerer (aka Wizard Willy)

Combat Zone

Monkey Magic

Splat!

Confuzion

Monster Munch

Spooky Castle

Convoy Raider

Monty on the Run

Star Paws

Cops 'n' Robbers

Moontorc

Steel

Cosmic Causeway

Movie Monster Game, The

Steg the Slug

Cosmonut

Mr Dig

Steigar

Crack-Up

Mr Weems and the She Vampires (aka She Vampires (The Astonishing Adventures of Mr Weems and ...))

Stormlord

Crazy Er-bert

Mugsy's Revenge

Stranded

Crazy Painter

Murder Off Miami

Street Hassle (Bad Street Brawler)

Creatures

Murray Mouse Super Cop

Street Sports Baseball

CrossFire

NATO Assault Course

Street Sports Soccer

Crush, Crumble and Chomp!

Nebulus

Strike Force Cobra

Crystal Kingdom Dizzy (Dizzy 7)

Neptune's Daughters

Suicide Express

Cyberdyne Warrior

Netherworld

Sunburst

Cybernoid II: The Revenge

Ninja Hamster

Super Cup Football

Cybernoid: The Fighting Machine

Ninja Massacre

Super Cycle

Cyborg

Nodes of Yesod

Super Dragon Slayer

Danger Ranger

Octapolis

Super G-Man

Dark Fusion

Oink!

Super Hero

Dark Tower

Olli and Lissa 3

Super Robin Hood

Dead or Alive

Omega Run

Super Scramble Simulator

Death or Glory

On The Tiles

Super Seymour Saves The Planet

Death Race 64

Operation Fireball

Super Stuntman

Deflektor

Orion

Super Tank Simulator

Deliverance: Stormlord II

Paradroid

Superkid

Devon Aire (aka Raffles)

Penetrator

Superkid in Space

Discovery

Pengon

Switchblade

Dizzy - The Ultimate Cartoon Adventure

Periscope Up

Sword of Fargoal

Dizzy Panic!

Pilgrims

Tarzan

Dizzy, Prince of the Yolkfolk

Pirates in Hyperspace

Tarzan Goes Ape

Dizzy: Down the Rapids

Pitstop

Tazz

DJ Puff's Volcanic Capers

Pitstop II

Temple of Apshai Trilogy

Doc the Destroyer

Plasmatron

Terra Cognita

Dracula The Arrival Chapter Two

Poltergeist

The Fury

Dracula The First Night Chapter One

Potty Pigeon

The Great Escape

Dracula The Hunt Chapter Three

Prince Clumsy

The Muncher

Eagles

Pro Boxing Simulator

The Official Father Christmas

Elektra Glide

Pro Mountain Bike Simulator

The Survivors

Eliminator

Pro Power Boat Simulator

The Very Big Cave Adventure

Endzone

Pro Skateboard Simulator

The Way of the Exploding Fist

Everyone's a Wally

Protium

Theatre Europe

Exolon

Psycastria

Thing Bounces Back (aka Coil Cop)

Fallen Angel

Pub Trivia Simulator

Thing on a Spring

Fantasy World Dizzy

Punch and Judy

Thunderbolt

Fast Food (Dizzy)

Purple Heart

Thunderhawk

Fighting Warrior

Puzzle Panic

Tiger Mission

Fire & Forget II

Tilt

Firelord

Titan

Fist II: The Legend Continues

Topper the Copper

Flip & Flop

Tracksuit Manager

Flunky aka Mad Flunky

Trailblazer

Football Frenzy

Treasure Island Dizzy

Footballer of the Year

Tunnel Vision

Footballer of the Year 2

Turbo Girl

Force 7

Uchi Mata (aka Judo)

Frightmare

UFO

Fruit Machine Simulator

Uridium

Future Knight

Vagan Attack

Galactic Games

Vampire

Galencia

Vampire's Empire

Game Over

Vera Cruz

Gateway to Apshai

Vixen

Gee Bee Air Rally

Voidrunner

Ghost Hunters

W.A.R

Giant's Revenge

Wacky Darts

Globetrotter

Wanted Monty Mole

Golf Master

West Bank

Grabber

Who Dares Wins II

Grand Prix Simulator

Wiz-Biz

Grand Prix Simulator 2

Wizball

Grandmaster aka Grand Master Chess

World Championship Boxing Manager

Grebit

Xenon

Grell and Falla

Yeti

Gribbly's Day Out

Zig Zag

Grid Iron 2

Zodia

Grid Pix

Zoomerang

Gridrunner

Zynaps

Guardian Angel

Zyrons Escape

Gunboat

Gunfighter

H.A.T.E.

Hades Nebula

Head over Heels

Heartland

Hellfire Attack

Hellgate

Henry's House

Hercules: Slayer of the Damned!

Herobotix

High Steel

Highway Encounter

Hobgoblin

Hostages

Hover Bovver

Humm-dinger

Hunchback

Hunter's Moon

Hypaball

Hysteria
ZX Spectrum - 351 games
1999

I-Alien

Quazatron

A Prelude To Chaos

Ice Slider Z

Ranarama

Abu Simbel Profanation

Implosion

Real Stunt Experts

Ace 2088

Impossaball

Reckless Rufus

Advanced Pinball Simulator

Impossamole

Renegade III: The Final Chapter

Adventure A: Planet of Death

Impossible Mission II

Revenge of the C5

Adventure B: Inca Curse

Indoor Soccer

Revolver

Adventure C: Ship of Doom

Interalia: Cerius II

Rik the Roadie

Aftermath

Invasion Force

River Rescue

Alchemist

Jack and the Beanstalk

Robin Of The Wood

Alpine Games

Jack the Nipper

Robot Rumpus

Anarchy

Jack The Ripper

Rogue

Angels

Jock and the Time Rings

Room Ten

Aquasquad

Jumping Jack

Rugby Boss

Arc of Yesod

Kamikaze

Saboteur

Arcadia

Kentucky Racing

Samurai

Artura

Knuckle Busters

Sanxion

Auf Wiedersehen Monty

Kosmos

Sarlmoor

Avenger: Way of the Tiger II

Krakout

SAS Combat Simulator

Back to Skool

Kwik Snax

Sceptre of Bagdad

Ball Breaker

Lancer Lords

Schizoids

Ball Breaker 2

Laser Zone

Sea Battles

Barbarian / Death Sword

League Challenge

Seahawk

Barbarian 2 / Axe of Rage

Leviathan

Shoot Out

Bargain Basement

Life-Term

Sidewalk

Battle Valley

Little Puff In Dragonland

Sidewize

BC Bill

Luna Attac

Sir Lancelot

Big Ben Strikes Again

Magicland Dizzy

Skatin' USA

Bigfoot

Manic Miner

Skool Daze

Bismark

Marauder

Sky High Stuntman

Black Magic

Master Mariner

Slightly Magic

BMX Freestyle Simulator

Maze Mania

Slug

BMX Ninja

Mega Apocalypse

Snoball in Hell

Bmx Simulator

Meganova

Snodgits

Bobsleigh

Metabolis

Soccer Boss AKA The Boss

Bomber

Metagalactic Llamas

Sophistry

Boulder Dash

Metalyx

Space Warrior

Boulder Dash II: Rockford's Revenge

Miami Chase

Spellbound Dizzy (Dizzy 5)

Boulder Dash III

Microball

Spike In Transylvania

Bounder

MiG-29: Soviet Fighter

Spindizzy

Bubble Dizzy

Molar Maul

Splat!

Bunny

Molemania

Spooky Castle

Butch Hard Guy

Monte Carlo Casino

Stage Coach

Butcher Hill

Monty on the Run

Star Paws

Cannibals From Outer Space

Moontorc

Star Wreck

Capitan Sevilla

Morris Meets The Bikers

Steg the Slug

Captain Dynamo

Mr Weems and the She Vampires (aka She Vampires (The Astonishing Adventures of Mr Weems and ...))

Stormlord

Cauldron

Mrs Mopp

Strike Force Cobra

Cauldron II: The Pumpkin Strikes Back

Mugsy

Super Brat

Cavemania

Mugsy's Revenge

Super Cycle

Caverns of Kontonia

Murder Off Miami

Super Dragon Slayer

Cerius

Murray Mouse Super Cop

Super Hero

Chambers Of Death

My Name Is Uncle Groucho, You Win A Fat Cigar

Super Robin Hood

Championship Baseball

Mystical

Super Scramble Simulator

Chip's Challenge

N.E.I.L. Android

Super Seymour Saves The Planet

Chopper Mission

Nebulus

Super Stuntman

CJ In The USA

Necks Please

Super Tank Simulator

CJ's Elephant Antics

Netherworld

Superkid

Colditz Story

Night Gunner

Superkid in Space

Combat Zone

Ninja Massacre

Swettibitz In Space

Confuzion

Nodes of Yesod

Switchblade

Contact Sam Cruise

Nth Zone

Swords and Sorcery

Convoy Raider

Nuclear Countdown

Tank Command

Cosmic Cruiser

Ocean Racer

Target: Renegade

Crack-Up

Oceano

Tarzan

Crazy Castles

Oink!

Tarzan Goes Ape

Crazy Er-bert

Olli and Lissa 3

Technician Ted

Creepy Dungeons

Olympimania

Ten Pin Challenge

CrossFire

Omega Run

Terra Cognita

Crystal Kingdom Dizzy (Dizzy 7) (ST/Amiga/C64/Spectrum/Amstrad)

Operation Hormuz

Terror-Daktil 4D

Cybernoid II: The Revenge

Outcast

The Egg

Cybernoid: The Fighting Machine

Overkill

The Fury

Dark Fusion

Paradise In Microdot

The Great Escape

Dartz

Paws

The Last Commando (aka Commando Tracer)

Dead or Alive

Pedro

The Last Vampire

Death Before Dishonour

Pegasus Bridge

The Muncher

Deflektor

Penetrator

The Official Father Christmas

Delta Patrol (aka Delta Charge)

Periscope Up

The Plot

Diamond

Pheenix

The Survivors

Discs of Death

Pi In The Sky

The Thinker

Dizzy - The Ultimate Cartoon Adventure

Pi There!

The Way of the Exploding Fist

Dizzy Panic!

Pi-Balled

Theatre Europe

Dizzy, Prince of the Yolkfolk

Pi-Eyed

Thing Bounces Back (aka Coil Cop)

Dizzy: Down the Rapids

Pimevel Man

Titan

DJ Puff's Volcanic Eruption

Pioneer

Toilet Truble

Doc the Destroyer

Plasma Ball

Tower of Evil

Doctor What!

Prince Clumsy

Trailblazer

Doombase

Pro Golf

Traxx

Downtown

Pro Golf II Part 1

Treasure Island Dizzy

Drunk Policeman

Pro Golf II Part 2

Turbo Girl

Eights

Pro Mountain Bike Simulator

Uchi Mata (aka Judo)

Electra 9000

Pro Power Boat Simulator

Uridium

Eliminator

Pro Skateboard Simulator

Vagan Attack

Eliminator

Project Future

Vampire

Endzone

Pulsator

Vampire's Empire

Everyone's a Wally

Punch and Judy

Vixen

Exolon

Voidrunner

Fallen Angel

W.A.R

Fantasy World Dizzy

Wacky Darts

Fast Food (Dizzy)

Wanted Monty Mole

Federation

West Bank

Fighting Warrior

Wheelie

Fire & Forget

Where Time Stood Still

Firelord

Who Dares Wins II

Firestorm

Winter Games

Fist II: The Legend Continues

Wiz-Biz

Flunky aka Mad Flunky

Wizard Willy (aka Spellfire the Sorcerer)

Footballer of the Year

Wizball

Footballer of the Year 2

Xenon

Frightmare

Yeti

Fruit Machine Simulator

Zynaps

Future Knight

Galactic Games

Game Over

Gateway to Hell

Ghost Hunters

Ghostly Grange

Giant's Revenge

Go To Jail

Grand Prix Simulator

Grebit

Grell and Falla

Grid Iron 2

Grid Trap

Gridrunner

Grumpy Gumphrey Supersleuth

Gunboat

Gunfighter

Gunrunner

H.A.T.E.

Hades Nebula

Heartbroken

Heartland

Henry's Hoard

Hercules: Slayer of the Damned!

Highway Encounter

Hijack

Hobgoblin

Horace and the Spiders

Horace Goes Skiing

Hungry Horace

Hypa Raid

Hypaball

Hysteria
Arcade (coin-op, etc) - 293 games
2020 Super Baseball

Image Fight

R-Type

Acrobatic Dog-Fight

Joe & Mac Returns

R-Type II

Act Fancer: Cybernetick Hyper Weapon

Joe & Mac: Caveman Ninja

Raimais

Alpha Mission 2

Joust

Rally X

Alpine Ski

Joust II

Rampage

Arch Rivals

Joyful Road (Munch Mobile in the U.S.)

Rampart

Art of Fighting (Ryuuko no Ken)

Jumping Cross

Rastan

Art of Fighting 2

Karate Champ: Player vs. Player

Renegade

ASO: Armored Scrum Object (Alpha Mission)

King of the Monsters

Robotron: 2084

Asteroids

Lasso

Rod Land

Asteroids Deluxe

Last Mission

Rolling Thunder

Athena

Last Resort

Rompers

Avalanche

Legend of Makai

Root Beer Tapper

B-Wings

Liberation

Runaway

Bad Dudes vs. DragonNinja

Liberator

Rygar

Baraduke

Liquid Kids

Saint Dragon

Baseball Stars 2

Lock 'n' Chase

Samurai Aces / Sengoku Ace

Battle Chopper (Mr Heli)

Lode Runner

Samurai Shodown

Battle Lane Vol. 5

Lunar Lander

SAR: Search and Rescue

Battle Shark

Lunar Rescue

Satan's Hollow

Battlezone

Mad Alien

Scrambled Egg (aka Eggs)

Beast Busters

Magician Lord

Sengoku

Bermuda Triangle

Major Havoc

Shackled

Black Widow

Mania Challenge

Shadow Force

Block Out

Mappy

Shoot Out

Bloody Wolf

Marble Madness

Side Pocket

Blue's Journey

Marvin's Maze

Sinistar

Bogey Manor

Mat Mania (Japanese: Exciting Hour)

Sky Adventure

Bomb Jack

Mechanized Attack

Sky Kid

Boogie Wings

Metal Clash

Sky Raider

Bosconian

Metal Slug

Sky Soldiers

Boulder Dash Part 1

Metal Slug 2

Sly Spy: Secret Agent

Boulder Dash Part 2

Metal Slug X

Smash TV

Breakout

Metro Cross

Sol Divide

BreakThru

Midnight Resistance

Solomon's Key

Bubble Bobble

Millipede

Space Gun

Bubbles

Minky Monkey

Space Invaders

Bump 'n' Jump

Missile Command

Space Invaders Pt 2

BurgerTime

Monte Carlo

Spelunker

Burning Fight

Mortal Kombat

Spelunker II

Butasan

Moto Race USA (aka Traverse USA)

Spinmaster

Cadash

Motos

Splatter House

Cameltry

Muchi Muchi Pork

Spyhunter

Canyon Bomber

Mutation Nation

SRD: Super Real Darwin

Centipede

Mysterious Stones

Star Force

Chack 'n Pop

Nam-1975

Star Wars

Chain Reaction/Magical Drop

Naughty Boy

Star Wars: Return of the Jedi

Championship Sprint

New Rally X

Star Wars: The Empire Strikes Back

China Gate (Japanese: Sai Yu Gou Ma Roku)

Night Driver

Stargate (Defender II)

Chopper I

Ninja Gaiden

Street Smart

City Connection (Game)

Nitro Ball

Strikers 1945

Cloak and Dagger

Operation Thunderbolt

Strikers 1945 2

Cloud 9

Operation Wolf

Strikers 1999

Colony 7

Ozma Wars

Subs (the game)

Continental Circus

P-47: The Phantom Fighter (P47 Thunderbolt in Home versions)

Super Breakout: Cavity

Cops 'n' Robbers

P.O.W.: Prisoners of War

Super Breakout: Double

Cosmic Cop (aka Armed Police Unit Gallop)

Pac and Pal

Super Breakout: Progressive

Crazy Balloon

Pac-Man

Super Burger Time

Crossed Swords

Pac-Mania

Super Dodge Ball

Crude Buster (Two Crude Dudes)

Paddle Mania

Super Pac-Man

Crystal Castles

Peter Pepper's Ice Cream Factory

Super Sprint

Cybattler

Phozon

Super Xevious

Cyberball 2072

Pink Sweets: Ibara Sorekara

Syvalion

Dangun-Feveron/ Fever SOS

Pirate Pete

Tempest

Dark Seal

Pit Fighter

Tengai / Sengoku Blade: Sengoku Ace Vol 2

Darwin 4078

Plus Alpha

The Astyanax (Originally The Lord of King)

Death Brade

Prehistoric Isle in 1930

The Combatribes

Defender

Psychic 5

The Electric Yo-Yo

Desert Assault

Psycho Soldier

The Fairyland Story

Desert War

Psycho-Nics Oscar

The Magical Drop III

Dig Dug

Puzzle Uo Poko

The New Zealand Story

Dig Dug 2

The Next Space

Dommy

The Super Spy

Don Doko Don

The Tower of Druaga

Double Dragon

Thunder Fox

Double Dragon 2: The Revenge

Time Soldiers (aka Battle Field)

Double Dragon 3: The Rosetta Stone

TNK III

Dragon Blaze

Total Carnage

Dragon Breed

Touch Down Fever

Dragon Spirit

Touch Down Fever 2

Dunk Dream

Toy Pop

Dunk Dream 95

Trio The Punch

E.D.F: Earth Defense Force (EDF)

Tropical Angel

Elevator Action

Tumblepop

Elevator Action Returns

U.S. Championship V'Ball

Espgaluda

Valtric

Exerion

Vanguard

Fantasy

Vanguard II

Fast Freddie

Victory Road (Dogosoken in Japan; sequel to Ikari Warriors)

Fatal Fury 2

Volfied

Fatal Fury Special

Western Express

Fatal Fury: King of Fighters

Wizard Fire

Fighter's History

Xain'd Sleena (American title: Solar Warrior; European title: Soldier of Light)

Fighter's History Dynamite

Xenophobe

Fighting Soccer

Xevious

Flip & Flop

Xybots

Food Fight

Yellow Cab

Football Champ

Formation Z (also known as Aeroboto)

Galaga

Galaga 88

Gang Wars

Gaplus

Gauntlet

Gauntlet II

Gekirindan

Ghost Pilots

Gondomania

Gravitar

Grid Seeker: Project Storm Hammer

Grobda

Growl

Guerrilla War

Gun Force

Gun Force II (Geo Storm)

Gunbird

Gunbird 2

HAL 21

Heavy Barrel

720

Ikari Warriors

Qwak!

10-Yard Fight

Ikari III: The Rescue

Quantum
Amiga - 201 games
3D Galax

Impossamole

Reshoot R

Alien Breed

Impossible Mission II

Revelation!

Alien Breed 2: The Horror Continues

Indiana Jones and the Fate of Atlantis

Revenge of the Mutant Camels

Alien Breed 3D

Indigo

SAS Combat Simulator

Alien Breed Special Edition

Insects in Space

Sensible Soccer

Alien Breed: Tower Assault

Jumping Jackson

Sensible World of Soccer

Arabian Nights

K240

Shadow Fighter

Armalyte: The Final Run

Kamikaze

Simon the Sorcerer

Artura

Kick Off

Simon the Sorcerer AGA

Astaroth: The Angel of Death

Kick Off 2

Skidz

Axel's Magic Hammer

Kick Off 3

Sky High Stuntman

Backlash

Killing Machine

Slam Tilt: Ace of Space

Barbarian / Death Sword

Kingpin

Slam Tilt: Mean Machines

Battle Chess

Kwik Snax

Slam Tilt: Night of the Demon

Battle Chess II: Chinese Chess

Legends

Slam Tilt: The Pirate

Battle Valley

Leviathan

Slayer

Bmx Simulator

Little Puff In Dragonland

Sleepwalker

Body Blows

Llamatron 2112

Slightly Magic

Body Blows Galactic

Loom

Speedball

Borobodur

Mad Professor Mariati

Speedball 2: Brutal Deluxe

Botics

Magic Pockets

Speris Legacy

Brutal Football (Brutal Sports Football)

Magicland Dizzy

Steel

Bubble Dizzy

Maniac Mansion - Amiga

Steg the Slug

Bubble Ghost (Bubble +)

Marvin's Marvellous Adventure

Steigar

Burning Rubber

Mega Lo Mania

Stormlord

Butcher Hill

Miami Chase

Summer Camp

Cadaver

MiG-29: Soviet Fighter

Super Cars

Cadaver: The Payoff

Mind-Roll

Super Cars ll

California Games

Minskie's Furballs

Super Cauldron

California Games II

Monkey Island 2: Le Chuck's Revenge

Super Methane Bros

Cannon Fodder

Motor Massacre / Road Raider

Super Seymour Saves The Planet

Cannon Soccer (Christmas Cannon Fodder)

Nebulus

Suspicious Cargo

Captain Dynamo

Nebulus 2: Pogo a gogo

Switchblade

Castles

Netherworld

Switchblade 2

Castles II: Siege & Conquest

Nightdawn

Sword of Sodan

Chip's Challenge

Off Shore Warrior

The Chaos Engine

CJ In The USA

Onslaught

The Games: Summer Edition

CJ's Elephant Antics

Paradroid 90

The Humans

Combo Racer

Pegasus

The Immortal

Creatures

Persian Gulf Inferno

The Plague

Crystal Kingdom Dizzy (Dizzy 7)

Pinball Dreams: Beatbox

The Secret of Monkey Island

Custodian

Pinball Dreams: Ignition

Titus the Fox: To Marrakech and Back

Cybernoid II: The Revenge

Pinball Dreams: Nightmare

Treasure Island Dizzy

Cybernoid: The Fighting Machine

Pinball Dreams: Steel Wheel

Turbo Tomato

Dark Fusion

Pinball Fantasies: Billion Dollar Gameshow

Vampire's Empire

Death Mask

Pinball Fantasies: Partyland

Venom Wing

Deflektor

Pinball Fantasies: Speed Devils

Venus the Flytrap

Deliverance: Stormlord II

Pinball Fantasies: Stones and Bones

Videokid

Dinosaur Detective Agency

Pinball Mania: Jackpot

Vixen

Disposable Hero

Pinball Mania: Jailbreak

Wacky Darts

Dizzy Panic!

Pinball Mania: Kick Off

Weird Dreams

Dizzy, Prince of the Yolkfolk

Pinball Mania: Tarantula

Winter Games

Dodgy Rocks

Plan 9 From Outer Space

Wizard Willy (aka Spellfire the Sorcerer)

Elf

Prehistorik

Wizball

Eliminator

Premier Manager

Wizkid

Erik

Prison

Worms

Exolon

Pro Boxing Simulator

Xenon

Face-Off

Pro Power Boat Simulator

Xenon 2

Fantasy World Dizzy

Project X

Zak McKracken and the Alien Mindbenders

Fast Food (Dizzy)

Pub Trivia Simulator

Zone Warrior

Fire & Forget

Zool 2

Fire & Forget II

Zool: Ninja of the ''Nth'' Dimension

Footballer of the Year 2

Zyconix

Full Contact

Zynaps

Galactic Warrior Rats

Globulus

Gods

Golden Wing

Guardian Angel

H.A.T.E.

Harlequin

Hawkeye

Head over Heels

Hell Bent

Hellfire Attack

High Steel

Hole in One Miniature Golf
SEGA Genesis - 57 games
Arcus Odyssey

Magic Girl/ Spell Damsel

Radical Rex

Balloon Boy

Mallet Legend's Whac-A-Critter

Sensible Soccer

Beast Wrestler

Mega Lo Mania

Sol-Deace

Brave Battle Saga

Metal Dragon

Speedball 2: Brutal Deluxe

California Games

Premier Manager

Squirrel King

Cannon Fodder

Premier Manager 97

Stormlord

Canon: Legend of the New Gods

Summer Challenge

Clay Fighter

Super Kick Off

Dino Land

Sword of Sodan

Earth Defense

Tanglewood

Earthworm Jim

The Chaos Engine

Earthworm Jim 2

The Curse of Illmoore Bay

El Viento

The Gadget Twins

Exile

The Humans

Final Zone

The Immortal

Funny World

Thunderbolt 2

Gaiares

Tinhead

Generals of the Yang Family

Todd's Adventures in Slime World

Gods

Top Racer 2

Granada

Traysia

Handy Harvy

Valis

Valis 3

Water Margin - The Tale of Cloud and Winds

Winter Challenge

World Trophy Soccer

Worms

Xenon 2

Zero Tolerance

Zombies Ate My Neighbors

Zool: Ninja of the ''Nth'' Dimension
Super Nintendo - 42 games
Air Cavalry

Indiana Jones' Greatest Adventures

Radical Rex

Arcus Odyssey (Arcus Spirits)

Jaleco Rally Big Run

Squirrel King

Blow 'em Out

Joe & Mac 2: Lost in the Tropics

Super Noah's Ark 3D

Brawl Brothers (Rushing Beat Ran in Japan)

Mega Lo Mania

Super Star Wars

California Games II

Mountain Bike Rally

Super Star Wars: Return of the Jedi

Cannon Fodder

Operation Logic Bomb

Super Star Wars: The Empire Strikes Back

Carrier Aces

Pinball Dreams: Beatbox

The Humans

Chip's Challenge

Pinball Dreams: Ignition

The Peace Keepers (Rushing Beat Shura in Japan)

Clay Fighter

Pinball Dreams: Nightmare

Tinhead

Congo's Caper

Pinball Dreams: Steel Wheel

Top Gear 3000

Earthworm Jim

Push-Over

Top Racer

Earthworm Jim 2

Top Racer 2

Full Throttle All American Racing

Tuff E Nuff (Dead Dance in Japan)

Ghoul Patrol

Utopia: The Creation of a Nation

Gods

Worms

Zombies Ate My Neighbors
Amstrad - 35 games
Capitan Sevilla

Netherworld

Stormlord

Cauldron

Ninja Massacre

Super Stuntman

Cavemania

Obsidian

Super Tank Simulator

Chaos Rising

Oceano

Switchblade

Chaos Rising Part 2

Periscope Up

Technician Ted

Cybernoid II: The Revenge

Prehistorik 2

The Official Father Christmas

Dizzy - The Ultimate Cartoon Adventure

Who Dares Wins II

Exolon

Xyphoe's Nightmare

Grell and Falla

Zynaps

Gunfighter

Heartland

Bug's Quest for Tapes

Jewel Warehouse

Splat!

Ball Breaker

Impossible Mission II

Spindizzy

A Prelude To Chaos

Ice Slider

Rex
Nintendo Entertainment System - 33 games
8 Eyes

Kick Off

Spelunker

Bee 52

Klash Ball (Speedball)

Star Wars

Boulder Dash

Maniac Mansion - NES

Star Wars: The Empire Strikes Back

California Games

MiG-29: Soviet Fighter

Stargate (Defender II)

Dash Galaxy in the Alien Asylum

Noah's Ark

Street Hassle (Bad Street Brawler)

Dizzy: Prince of the Yolkfolk

Perfect Pair

Swords and Serpents

Dragon Wars

Pinball Quest

Tapeworm Disco Puzzle

Eliminator Boat Duel

The Adventures of Rad Gravity

Exploding Fist

The Immortal

Eyra, the Crow Maiden

Totally Rad (Magic John in Japan)

Flea!

Whomp 'Em

Formation Z (also known as Aeroboto)

Witch N' Wiz

Get'em Gary

Hostages (Rescue: The Embassy Mission)
Atari 8-bit - 28 games
Airstrike

Lost Tomb

River Rescue

Airstrike 2

Kissin Kousins

Star Raiders 2

Attack of the Mutant Camels/Advance of the Megacamel

The Adventures of Robin Hood

Battlezone

Venus Voyager 2

Batty Builders

Bombastic! aka Bomb Blast It

Boulder Dash

Bristles

Caverns of Mars

Centipede

Chop Suey

Citadel Warrior

Dan Strikes Back

Danger Ranger

Desmond's Dungeon

Diamonds

Encounter!

Fire Chief

Firefleet

Flip & Flop

Hijack!

Hyperblast
Atari 2600 - 28 games
3D Tic-Tac-Toe

Missile Command

Quadrun

Adventure

MotoRodeo

Realsports Basketball

Air-Sea Battle

Outlaw

Realsports Football

Aquaventure

Realsports Soccer

Asteroids

Realsports Tennis

Boxing

Realsports Volleyball

Circus Atari

Save Mary

Combat

Solaris

Crystal Castles

Space War

Dark Chambers

Stargate (Defender II)

Dodge 'Em

Yars' Revenge

Flag Capture

Haunted House

Human Cannonball
MSX - 28 games
Boulder Dash

Life On Mars

Rune Monster

Game Over Part 1

Metal Dragon

Sector 88

Game Over Part 2

Super Lode

Head over Heels

Trailblazer

Highway Fighter

Uchi Mata (aka Judo)

Xenon
Atari 7800 - 11 games
Alien Brigade

MotorPsycho

Scrapyard Dog

Asteroids

Ninja Golf

Basketbrawl

Planet Smashers 7800

Centipede

Desert Falcon

Fatal Run

Food Fight
DOS - 5 games
Afterlife

Sam & Max Hit the Road

Day of the Tentacle

The Dig

Full Throttle
Game Boy - 5 games
Banishing Racer

Jeep Jamboree: Off Road Adventure

Super Hunchback

Fortified Zone

Worm Blaster
Atari Lynx - 5 games
Basketbrawl

Super Asteroids and Missile Command

California Games

Dirty Larry Renegade Cop

Kung Food
PS1 - 2 games
40 Winks

Loaded
MSX 2 - 1 games
Dim X
Atari 5200 - 1 game
Frisky Tom