Starfield is one of the year's biggest game releases, and the ambitious sci-fi RPG from Bethesda Game Studios is coming to PC and Xbox Series X|S in September. Ahead of its debut, we got word that the team at Bethesda has been working closely with AMD to optimize the release for multi-threaded CPUs and add support for technology like FidelityFX Super Resolution 2 (FSR 2) as part of an exclusive partnership.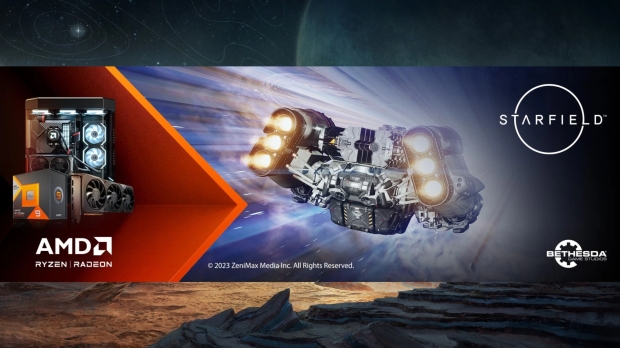 And now, after rumors that it was coming, AMD has launched its big Ryzen and Radeon Starfield Game Bundle, covering almost all AMD hardware. The pitch is simple, buy a Ryzen CPU or a Radeon graphics card, and you'll get a copy of the game.
Buy a high-end component, and that copy will be the Starfield Premium Edition which includes Early Access to play the game before its official launch, the Shattered Space Story Expansion, Constellation Skin Pack, digital artbook, and original soundtrack.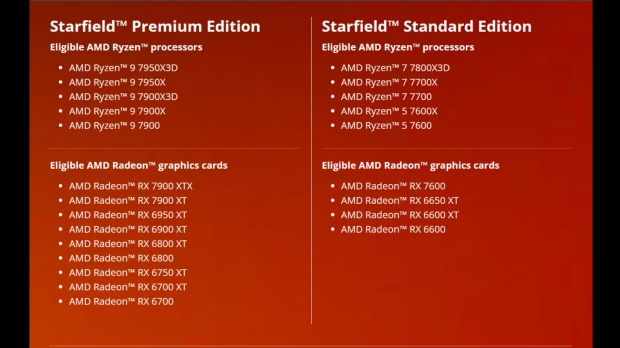 This includes CPUs like the AMD Ryzen 9 7950X3D, Ryzen 9 7950X, Ryzen 9 7900X3D, AMD Ryzen 9 7900X, and AMD Ryzen 9 7900. Interestingly the Premium Edition bundle covers a broader range of GPUs, starting with the RDNA 2-powered Radeon RX 6700 and going up to the flagship RDNA 3-powered Radeon RX 7900 XTX.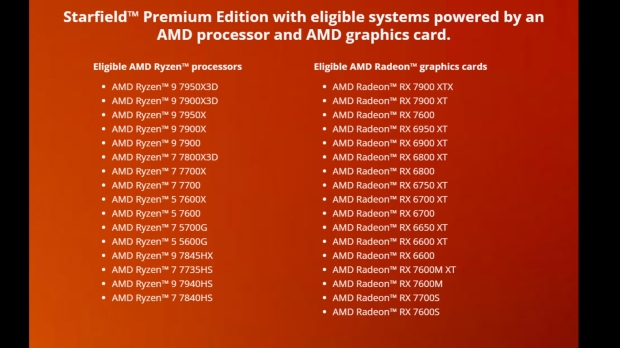 Pre-built systems are also included, as shown in the full product line-up above. And yeah, AMD is going all in on Starfield as the bundle also includes mainstream hardware like the Radeon RX 6600 and the Radeon RX 7600 and a whole range of mobile processors and GPUs. Redemption is simple, as you'll get an AMD Token Code from participating retailers that you can redeem at AMDRewards.com with confirmation from AMD that it will be the Steam version of the game.