NASA has released a new video that showcases a 3D visualization of flying past all of the galaxies the James Webb Space Telescope has observed in a specific region of space.
NASA has announced the release of this video on the Webb Telescope website, as well as its social media channels, with the space agency explaining that the data used to create the visualization was obtained through the Cosmic Evolution Early Release Science Survey, or CEERS Survey. The blog post states that the video represents Webb's exploration of the region of space called the Extended Groth Strip.
This specific region of space contains thousands of galaxies and, as shown in the video, ends on Maisie's Galaxy, one of the oldest galaxies ever discovered and a prime example of what Webb's infrared instruments can achieve. Maisie's Galaxy is 13.4 billion light years away from Earth, and according to NASA, it formed approximately 390 million years after the Big Bang. NASA notes that every second of the above and below gifs represents seeing 200 million years into the past.
"While this vast region contains about 100,000 galaxies, the visualization focuses on approximately 5,000 - with the nearest and more complex galaxies, shown in the beginning, located within a few billion light-years of Earth. As the visualization proceeds, showing galaxies farther away from Earth, we see different stages of the universe's history and evolution," writes NASA
"This observatory just opens up this entire period of time for us to study," said Rebecca Larson of the Rochester Institute of Technology in Rochester, New York, one of the survey's investigators. "We couldn't study galaxies like Maisie's before because we couldn't see them. Now, not only are we able to find them in our images, we're able to find out what they're made of and if they differ from the galaxies that we see close by."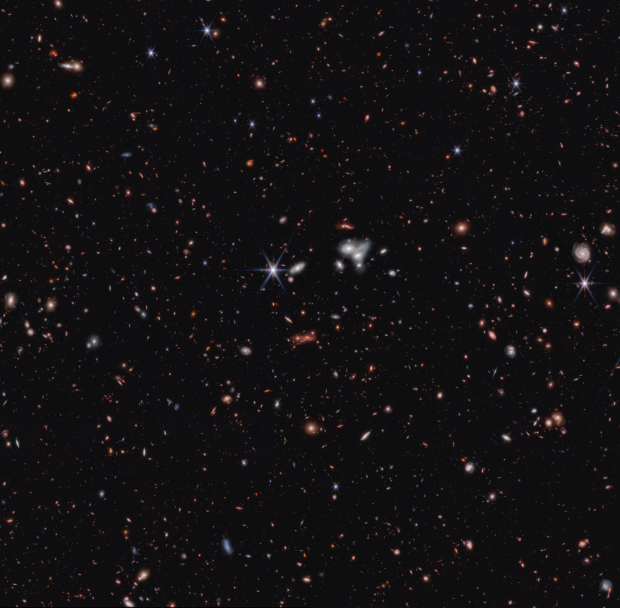 "We're used to thinking of galaxies as smoothly growing," said Steven Finkelstein of the University of Texas at Austin, principal investigator of the CEERS program. " But maybe these stars are forming like firecrackers. Are these galaxies forming more stars than expected? Are the stars they're making more massive than we expect? These data have given us the information to ask these questions. Now, we need more data to get those answers."
"This observation exceeded our expectations. The sheer number of galaxies that we're finding in the early universe is at the upper end of all predictions," added Finkelstein