Sometimes a deal is too good to be true, which Roman 'der8auer' Hartung found out in his latest deep dive into a supposed Samsung 980 EVO M.2 4TB SSD purchased for around USD 44 from an AliExpress seller. The first red flag is naturally the price, but a bigger one would be that Samsung doesn't offer a Samsung 980 EVO - let alone a 4TB variant.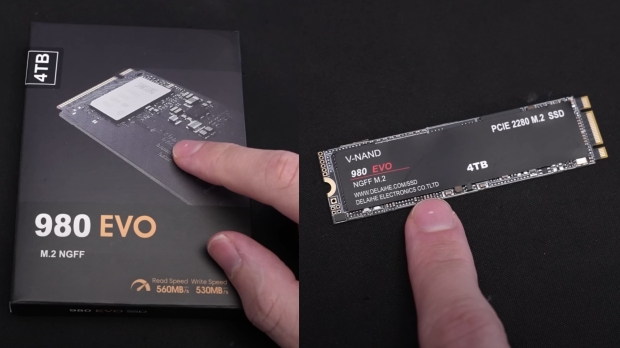 As expected, these drives are fake, with false branding, warranties, and other info - but it gets even worse once 'der8auer' decides to benchmark the drive using the popular CrystalDiskMark tool. Even though there was some good news with Windows recognizing the capacity of 3.72TB, things took a turn for the abysmal when the read speed was noted as 36.25 MB/s and the write speed an even worse 0.84 MB/s.
This makes the so-called NVMe storage solution sold as a Samsung SSD worse than a cheap USD thumb drive you can pick up for a few bucks. The thought of firing up or installing a game like Call of Duty Modern Warfare II on this (which has a 150GB install size) is enough to make you sweat.
Things improved somewhat when he tested a fake Samsung 980 PRO, obtaining an initial read speed of almost 2,500 MB/s but due to a lack of cache, the write speed tanks after a few minutes. Also, the supposed 4TB capacity was closer to 1 TB.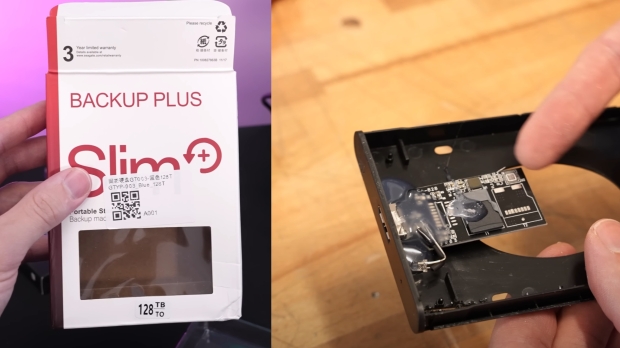 It's a fascinating look at fake SSDs being sold on the internet, and we also get to see some fake Seagate external drives with capacities in the region of 128 TB. Opening one up, we see a rather shoddily put-together USB to microSD adaptor with a single SD Card glued very cheaply.
No doubt these are all fake, with sellers duping people into buying storage from known brands with severely lacking hardware. Looking at the parts 'der8auer', you're looking at around USD 4 in parts sold in a package for ten times that amount. The good news is that you can get a legit SAMSUNG 980 PRO M.2 1TB SSD for under USD 60 right now over at Newegg (link below) - which is a massive 45% off.