Data revealed in the FTC v Microsoft federal case gives a closer look at Nintendo's dominant lead in the console publishing segment.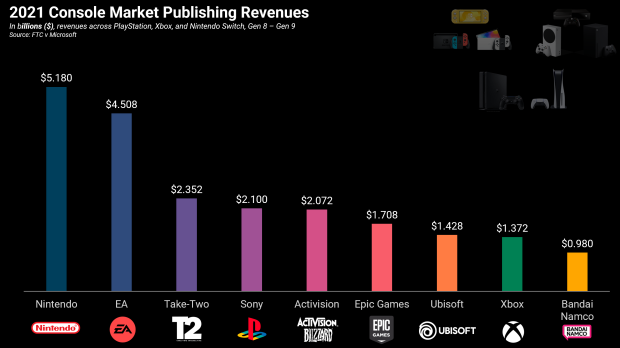 Most gamers already know just how big Nintendo is. Microsoft really drove this point home in key witness testimony in the federal case with the intent to undermine the FTC's high-performance relevant market, which omitted Nintendo from the picture. Not only does the Switch have substitution effects with PlayStation and Xbox, but the device is the best-selling console across both Gen 8 and Gen 9 systems.
Testimony from economist Dr. Liz Bailey outlines just how big Nintendo is compared to PlayStation, Xbox, and other third-party publishers in the console gaming market. According to data provided by her in the courtroom, and relayed by mLex reporter Michael Achton, Nintendo has a $3.8 billion lead over Sony's publishing revenues, and a significant $3.8 billion lead over Xbox.
2021 Console Market Publishing Revenues - $28 billion
Nintendo - $5.18 billion
Electronic Arts - $4.508 billion
Take-Two Interactive - $2.352 billion
Sony Interactive Entertainment - $2.1 billion
Activision-Blizzard - $2.072 billion
Epic Games - $1.708 billion
Ubisoft - $1.428 billion
Xbox Game Studios - $1.372 billion
Bandai Namco - $980 million

(Others unlisted)
Remember that this publishing revenue is from first-party games sales and monetization across the console market, and includes data on Gen 8 (PS4, Xbox One), Gen 9 (PS5, Xbox Series), and the Nintendo Switch. These values align with our own data from Nintendo's first-party games revenues for the 2021 calendar year.
Elsewhere in her testimony, Dr. Bailey discussed the overall video games market across platforms, including mobile and console gaming.
There's essentially 3 sources of hardware on which gaming happens. Mobile is the largest, it's about 70%, what I'm showing here is global gaming revenue by 2021. About $150 billion, about 70%. PC gaming is about $33 billion, console gaming at $28 billion.

Xbox is less than half of 1% of mobile gaming revenue.

Activision Blizzard is also very small in mobile gaming, combined, Microsoft will move up to 3.8% of mobile gaming.
Bailey also discussed console gaming:
Activision is 5th on list, with 7.4% share of console gaming.

Q Where does Xbox Games Studios fall on this list?

They're 8th on this, with 4.9% share. This includes ZeniMax.

Q Where does Sony fall?

Sony is one step higher than Activision, they're at #4 with 7.5%