Activision's executive management stands to receive hefty payouts of millions of dollars if the Microsoft-Activision merger goes through, but Activision CEO Bobby Kotick's company stock portfolio could be worth in excess of $400 million.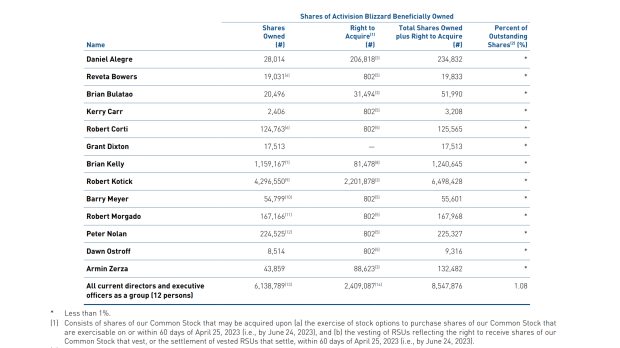 In order to secure Activision Blizzard King to fund its mobile gaming and Game Pass ambitions, Microsoft has made an offer to buy 100% of Activision stock at a $95 per share premium. This adds up to a $68.7 billion deal, the largest-ever for Microsoft and the biggest acquisition in video games history (over five times the value of Take-Two's $12.7 billion Zynga buyout).
If Microsoft acquires ABK at $95 per share, there are a number of high-profile Activision executives that will receive big payouts. The company's largest executive shareholder is CEO Bobby Kotick, who currently owns 4,296,550 shares as per 2023's notice of annual meeting of shareholders.
FTC lawyer Jennifer Fleury brought up Kotick's share amount in the recent FTC v Microsoft federal case. During examination of the Activision CEO, Fleury asked:
Q You own 4.3 million shares of Activision?

That's a ballpark.

Q If the deal closes, then your stock would be worth $408 million?

With your own math, yes.
After Kotick answered this question and did not provide more clarification on his stock value, the FTC said "nothing further."
Assuming Kotick would get $95 a share for all of his owned shares, then the CEO could receive around $408,172,250. The annual report filing also indicates that Kotick has the right to acquire an additional 2.2 million shares, which could boost his shares to nearly 6.5 million and represent total share worth of $617 million.
Kotick's employment agreement has been extended to ensure he stays as Activision CEO until at least March 31, 2024.