The official word from Blizzard and Diablo franchise general manager Rod Fergusson is that there's no secret Cow Level in Diablo IV. But then again, he would say that, wouldn't he? Ever since players got their hands-on the latest installment in the long-running action RPG, a dedicated part of the community has been actively going through every inch of the game to try and find the secret level.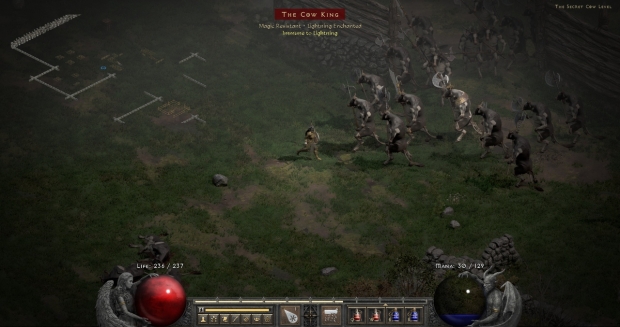 So far, it hasn't been found. Still, the general idea is that if both Diablo 2 and Diablo 3 had secret Cow Levels (where you fight a horde of armed cows that moo and drop gold and loot), then odds are there is one in Diablo 4, too, primarily when the game draws most of its inspiration from these two entries. There's an entire Wikipedia page on the history of the secret Cow Level, too, if you need to brush up on your bovine lore.
You can also join in on the hunt over at the D4 - Not Finding A Cow Level Discord, though based on Diablo 4's recent sizable patch, the search looks to have hit a roadblock because many were convinced that the Cow Level is tied to the town of Ked Bardu in the Dry Steppes.
There you'll find Oxen statues, and the latest patch has removed code related to a quest called "The Oxen Gods" involving a cleansing ritual. The assumption within the Discord group was that it was a secret quest that would eventually lead to the secret Cow Level in Diablo 4. The code referenced hunting for various relics that would ultimately unlock a hidden Cellar - which would house the portal to the Cow Level.
Perhaps the quest was simply a relic from an earlier version of the game and no longer relevant, though some believe that it might still hold the key to finding the Cow Level as some of the clues from the quest have remained in the game. Others are coming to terms with the fact that after almost a month, they might have to restart their search.
Still, the mysterious in-game relics might exist, or "there is no cow level," as Diablo developers have said for decades.