Microsoft CEO Satya Nadella strongly dislikes video game exclusivity and wants all of Microsoft's software everywhere it can possibly be.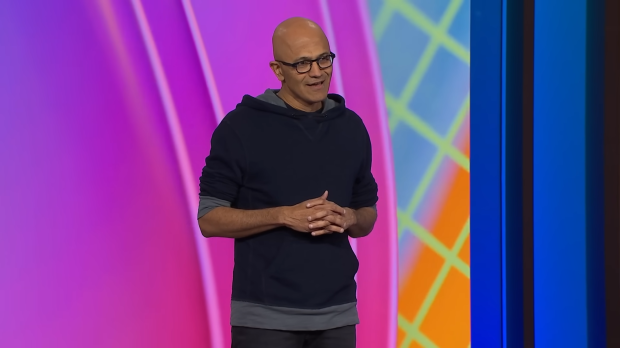 Today Microsoft CEO Satya Nadella gave testimony in the federal FTC v Microsoft court case, and shared his views on one of the most powerful and lucrative business tactics in the interactive entertainment industry: Exclusives.
"If it was up to me I would like to get rid of exclusivity on consoles," Nadella said. "The dominant player has defined market competition using exclusives. I have no love for that world."
Nadella's ethos can be represented in a recent internal Microsoft document that outlines the company's future plans. In that document, Microsoft says that it wants to distribute Windows over the cloud, and open up its software to everyone, everywhere, all at once. Nadella wants to do the same for gaming.
The CEO is not the leader of a publisher, nor does he lead Xbox gaming, so Nadella does not understand the benefits of exclusivity. ZeniMax's Pete Hines has concisely outlined some of the major benefits of making exclusivity deals, including funding, as well as quicker game releases with fewer bugs.
As far as exclusivity defining the market, Nadella is referring to Sony Interactive Entertainment's penchant for buying exclusivity deals and paying third-party publishers and developers upfront fees and other marketing and commercial incentives to have their games skip Xbox platforms. Recent examples include Final Fantasy 16, which skipped Xbox when it launched this month.
These practices have caused Xbox gaming CEO Phil Spencer to see Sony as a "hostile and aggressive competitor," and the gaming exec also said that securing exclusive content was a principal impetus for Microsoft's $7.5 billion acquisition of ZeniMax. Xbox was fighting with fire, in other words.
Microsoft also makes its own exclusivity deals, including those for Ark 2, but these deals can be timed exclusives. Microsoft typically instead opts to purchase a publisher or a developer outright and ensure games release on Xbox, PC, and Game Pass on a priority basis.
Both ZeniMax's Pete Hines and Xbox's Phil Spencer say that exclusivity is decided on a case-by-case basis. There have been conflicting reports that exclusivity terms for big-budget first-party games like The Elder Scrolls VI's has not been decided--Phil Spencer says it is 'too early' to give platform status for that game, but Jim Ryan testifies that he learned TESVI will not come to PlayStation.