Elon Musk and Mark Zuckerberg might be set for a cage fight - or at least some of the gossip from the rumor mill claims - but if you're keen on getting some big-tech-CEO brawling action right now, well, you can simulate the bout in a freshly released browser game.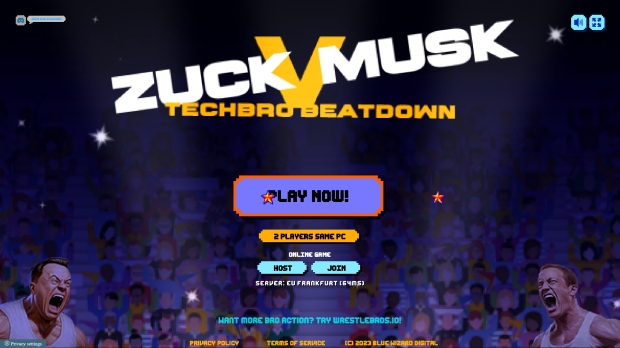 The freebie Zuck vs Musk 'techbro beatdown' is the brainchild of the designer of Bejeweled, and founder of Blue Wizard, Jason Kapalka (as PC Gamer reports). It's actually a modified spin of an existing Blue Wizard game, WrestleBros, but with Musk and Zuckerberg starring as the wrestlers.
You can partake in a match against the computer, or versus a human opponent (playing against a local player on the same PC, or online), with wins facilitating upgrades.
The game is pretty standard basic wrestling fare controlled with the arrow keys and spacebar. You can jump and punch, stand on the ropes, execute flying attacks and throws, and even pick up a chair (if one appears in the ring) and clobber your opponent with it (which is clearly branded as a cheater's move).
Once a wrestler's stamina drops low enough, they can be pinned to the canvas, and after a couple of attempts, eventually finished off.
And that's it, really. As a free game, it's certainly good for a quick laugh, and it won't cost you anything (though the odd advert does pop up, very briefly, every few rounds of fighting).
We didn't get very far, and certainly not to the stage of upgrades, before we lost interest, but presumably one of Musk's moves that can be unlocked will be the 'walrus,' a technique he previously explained on Twitter.
You might get the sense that Musk isn't entirely serious about the Vegas Octagon matchup purportedly in the offing, but UFC president Dana White tells us that isn't true - and that both CEOs are 'dead serious' about cage fight. We've got a feeling Zuckerberg is that bit more serious, mind.
We'll see, but we're not buying it. As Musk has said elsewhere, the most entertaining outcome is the most likely, so maybe the fight will turn out to be like the Zuck vs Musk game after all, complete with smashing-chairs-over-the-head antics (ahem).
It's a pretty safe bet that this won't be the last game crafted that will aim to simulate the Twitter vs Facebook fight. That is, unless the 'techbro beatdown' gets called off in the near future, and that's certainly a possibility.