As part of an AI training demonstration showcasing the prowess of NVIDIA's H100 hardware, which saw a whopping 3,584 Hopper GPUs train a GPT-3 AI model in 11 minutes, the company also revealed a roadmap for its upcoming products - including what will eventually become the GeForce RTX 50 Series.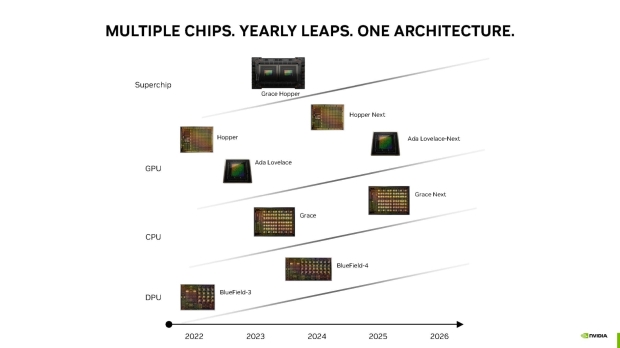 The roadmap refers to the technology as "Ada Lovelace Next" alongside "Hopper Next" and "Grace Next," so there are no clues as to what architecture will be called. It highlights a 2025 release, so we might have to wait longer than usual before seeing the GeForce RTX 5080 and GeForce RTX 5090.
Traditionally new GeForce hardware and architecture arrived every two years, give or take a few months. The Pascal-based GeForce GTX 10 Series arrived in 2016, the Turing-based GeForce RTX 20 Series in 2018, the Ampere-based GeForce RTX 30 Series in 2020, and the Ada Lovelace-powered GeForce RTX 40 Series in 2022.
But this doesn't mean there will be a three-year wait, as the placement of the existing GPU architectures on the roadmap aligns with the time of year they launched. "Ada Lovelace Next" looks to be on track for early 2025, with "Hopper Next" set to arrive in 2024. That said, this also points to NVIDIA focusing on getting its next-generation AI hardware out before the release of its new line-up of GPUs for PC gaming.
It might also point to a mid-generation refresh for cards like the GeForce RTX 4070 and RTX 4060 using the dormant "SUPER" branding. With a potential three-year gap between GeForce RTX generations, does this roadmap leave the door open for AMD and RDNA 4? Well, not really.
We've yet to see several Radeon RX 7000 GPU releases, namely the Radeon RX 7800 and RX 7700 series. These cards are rumored to launch later this year (possibly September), so getting RDNA 4 in 2024 looks pretty slim - where at bet it might be December 2024, ala the Radeon RX 7900 XTX's December 2022 debut.
This could also mean that Intel has 2024 all to itself, with its planned second-generation Blackmage-powered Intel Arc graphics set to arrive sometime next year.