After a few benchmark leaks covering some synthetic tests painting a picture of the GeForce RTX 4060 presenting a 20% raw performance uplift over the GeForce RTX 3060, it looks like we've now got some official (or at least NVIDIA-approved) looks at how the RTX 4060 performs in-game.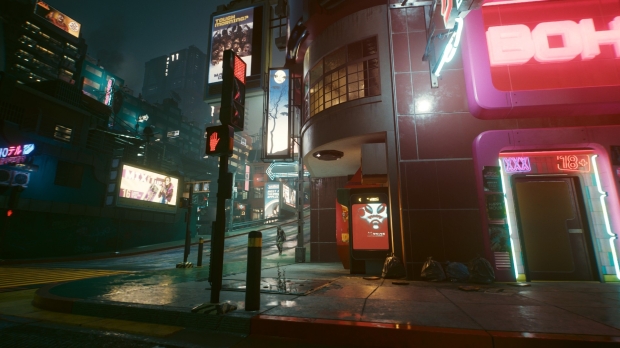 The game in question is Cyberpunk 2077, still one of the best-looking PC games available, and back in the headlines thanks to the upcoming September release of the Phantom Liberty expansion. NVIDIA has provided a few outlets early access to the GeForce RTX 4060, allowing them to post benchmark results using Cyberpunk 2077's hardware-intensive 'RT Ultra' setting with DLSS 2 and DLSS 3 enabled.
Over at AusGamers, the only stipulation was that DLSS needed to be set to Balanced, but other than that, there were no restrictions on what to test or compare performance with. And with that, we see in-game results compared to the GeForce RTX 3060 12GB (the STRIX OC model from ASUS) and the GeForce RTX 2060 SUPER (Founders Edition).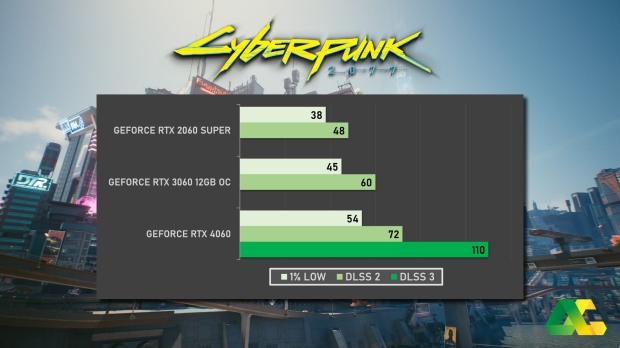 The GeForce RTX 4060 tested was the MSI GeForce RTX 4060 VENTUS 2X model, which will most likely be an MSRP card available for USD 299. As for the numbers, they paint a pretty good (or expected) picture for the RTX 4060 - a 50% uplift over the GeForce RTX 2060 SUPER (which would be closer to 60% if compared to the baseline RTX 2060) and a 20% uplift over the GeForce RTX 3060 12GB.
The DLSS 3 performance, which makes use of Frame Generation and NVIDIA Reflex, is impressive, sitting at 110 frames-per-second, with AusGamers noting that Reflex can reduce the latency compared to standard DLSS 2 rendering - getting it down to sub 60ms. It's a great showing for DLSS 3, which is definitely one of the new GeForce RTX 40 Series draw cards.
The article also offers an early look at power efficiency, with the GeForce RTX 4060 only drawing 113W of power compared to 171W for the GeForce RTX 2060 SUPER and 161W for the GeForce RTX 3060. With the GeForce RTX 4060 out later this week, full reviews are coming soon, so it will be interesting to see if the 20% figure holds across other games.