AFOX might not be a household name like other graphics card makers, but it's a company that has been in the game for over two decades - so it's a veteran regarding NVIDIA GeForce products. And its latest is very interesting, with the AFOX RTX 4090 (AF4090-24GD6XH4) presenting the flagship Ada GPU from NVIDIA in two-slot form with an old-school blower fan for cooling.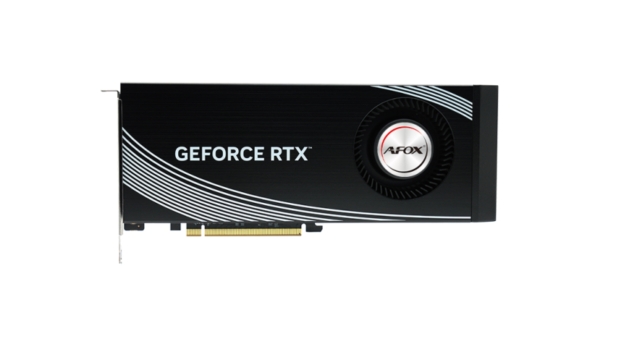 Using a blower fan also means it's shorter, length-wise, than the GeForce RTX 4090 Founders Edition by over 30 centimeters. There aren't many GeForce RTX 4090 models out there that aren't 3.5 slots thick and long, too, so something like the AFOX RTX 4090 will be of interest to those with limited space in their case.
Specs-wise, there's no OC action here; it follows the reference design with a 2230 MHz base clock, a 2520 MHz boost clock, and a 450W power rating delivered over a single 16-pin power connector. This makes sense because blower-style fans for cooling are a relatively old-school way of cooling a GPU. They expel/blow hot air out of the rear of the GPU and are generally noisier than modern cooling solutions.
The big benefit is that this cooling design keeps the physical real estate down to two slots, making it an excellent choice for workstation PCs or rigs with multiple cards. In fact, with the rise of AI computing, the odds are that AFOX has designed its AFOX RTX 4090 for the high-performance computing market. Of course, gamers will also be interested in a two-slot RTX 4090.
There's no pricing or availability information for the AFOX RTX 4090, so stay tuned.