Elon Musk has challenged Mark Zuckerberg to a cage fight, and while the likelihood of such an event taking place seems extremely low, stranger things have happened.
How did this even begin? Mario Nawfal, an entrepreneur and CEO of IBC Group, tweeted about Meta's rumored app called Threads, which is expected to be the company's direct response to Twitter. According to these rumors Threads will have automatic integration with Instagram, allowing Instagram users to pull all of their following/account over to Threads, which will essentially work in the same fashion as Twitter.
Nawfal's tweet caught the attention of Musk, who responded facetiously by saying, "I'm sure Earth can't wait to be exclusively under Zuck's thumb with no other options. At least it will be 'sane.' Was worried there for a moment 😅." A Twitter user responded to Musk by saying, "Better be careful, @elonmusk. I heard he [Zuckerberg] does jujitsu now," to which Elon replied, "I'm up for a cage match if he is lol."
Musk offer of a cage match seemingly sparked interest from Zuckerberg who has been training for some time now as the Meta CEO posted to his story the below image that states, "send me location", which is seemingly a reference to what MMA superstar Khabib Nurmagomedov said when he called out Conor McGregor.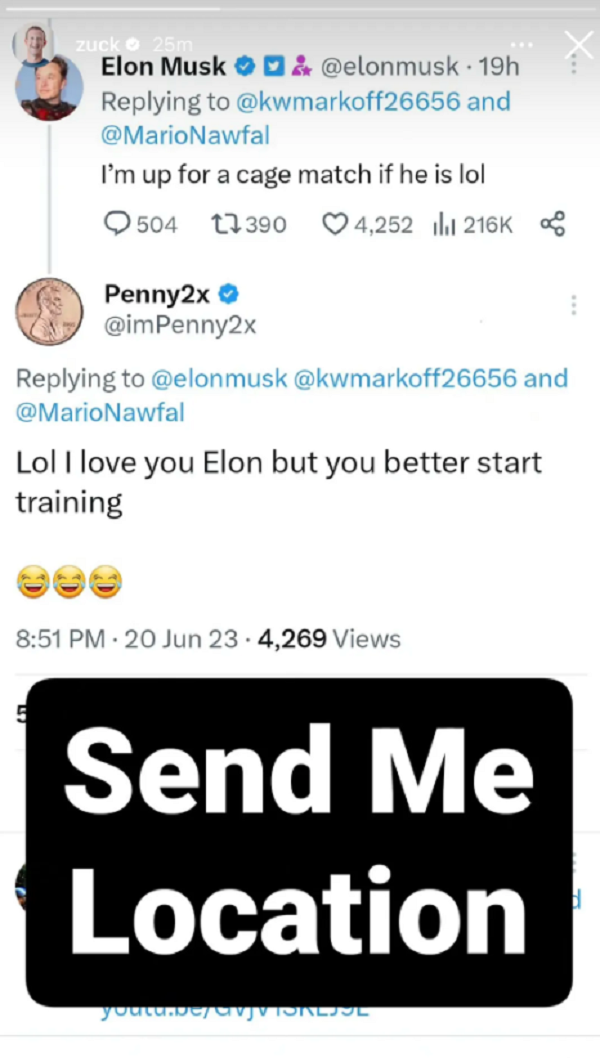 The supposed location of the fight would in Vegas in an octagon, complete UFC style and according to Nawfal additional information has surfaced such as Joe Rogan potentially being a referee. Additionally, Nawfal reports that UFC President Dana White has said he's spoken to Zuckerberg and Musk and both say they are "dead serious" about fighting. Andrew Tate also offered to train Elon Musk for the fight.
It should be noted nothing has been confirmed between Zuckerberg and Musk, and that at this current time the topic is simply being discussed. However, Musk said in a Tweet that "The most entertaining outcome is the most likely."
So, who would win? Musk is much larger than Zuckerberg, but Zuckerberg has been training in Brazilian Ju Jitsu for quite some time now, even catching the attention of Joe Rogan and other UFC experts. Musk would need to train for some time to be fit and capable enough to outlast Zuckerberg, or Musk could just catch a lucky punch. Who knows. The fact that Zuckerberg and Musk fighting in an octagon is even being discussed is simply hilarious, regardless of the outcome.