NVIDIA has published a blog post about the incoming RTX 4060 graphic card's 1080p gaming chops, confirming that it'll be on sale in a week, on June 29 (as was previously rumored).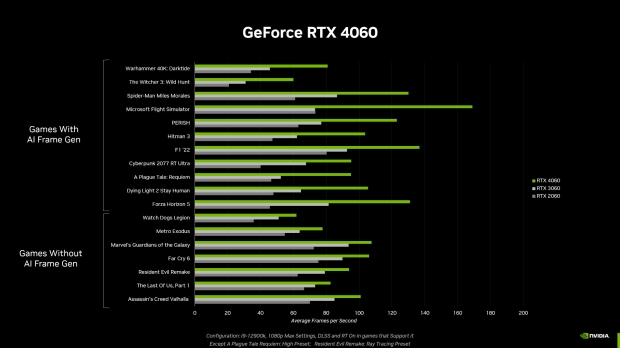 NVIDIA provides comparisons against the RTX 3060 (and RTX 2060), giving us a firm idea of how the new most affordable ($299) Lovelace graphics card will perform.
The key overall metric is that the RTX 4060 is 20% faster than the RTX 3060 in most games (meaning those without DLSS 3 support). If a game does support DLSS 3, that obviously makes a huge difference, with NVIDIA reckoning that you'll get up to 70% better performance in this case.
What's interesting is that yesterday we saw a leaked benchmark that indicated the RTX 4060 was up to 20% faster than the RTX 3060, so this proves that piece of spillage to be more or less correct (even though it was a Geekbench leak, not exactly ideal for judging gaming prowess, shall we say).
Focusing down on individual game benchmarks which are also provided, the RTX 4060 is capable of driving over 100 frames per second at 1080p (paired with a 12900K CPU) in Far Cry 6 and Guardians of the Galaxy, plus it just about hits that mark in Assassin's Creed Valhalla too (those are non-DLSS 3 games).
Interestingly, as well as gaming performance, NVIDIA also touches on power usage, underlining that the RTX 4060 is less expensive to run (given the current sky-high utility bills in some countries).
Compared to running an RTX 3060, gamers in the US could save just over a dollar per month, based on NVIDIA's calculations. So no, that isn't a huge amount, but nonetheless, it's money that's better off in your pocket than the electricity company's coffers.
In other RTX 4060 news today, we've caught a glimpse of pre-release pricing, and it ain't pretty (but don't fret too much on those leaks).