A few months ago, we reported on Syntech's new 6-in-1 USB-C Docking Station for Steam Deck, which is packed with features and sports a compact and great look. As a 6-in-1 USB-C Docking Station, it features 4K 60Hz output over HDMI 2.0, a Gigabit Ethernet input for fast transfer, three USB-A 3.0 outputs, and USB-C 3.0 for full-speed charging.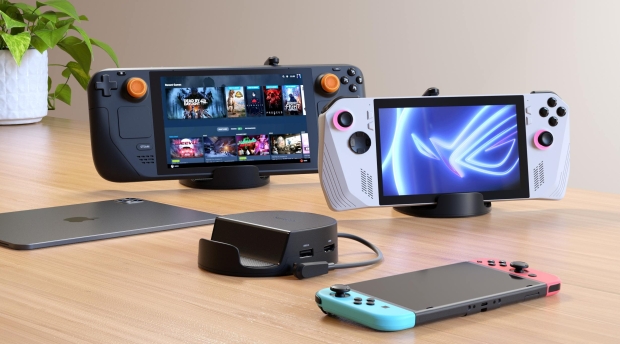 And now we can add ASUS ROG Ally support, alongside Valve's Steam Deck, with this docking station now being a great choice for ASUS's Windows-based portable gaming handheld. The high-end ROG Ally is powered by the impressive Ryzen Z1 Extreme processor capable of playing modern PC games on its 1080p display.
And with devices like the Steam Deck and ROG Ally being designed for portable PC gaming, something like the Syntech 6-in-1 USB-C Docking Station is great for those looking for an easy way to connect either handheld to a TV or gaming display for some big-screen action. Plus, you can benefit from not worrying about battery life and pushing the ROG Ally to its performance limit.
The dock is high-quality, with smart design features like an anti-slip silicon pad, an anti-slip finish on the stand, and dimensions that don't block the vents on your gaming handheld. It's also built to last with "ultra-high temperature laminated PCB and tough ABS+PC materials."
It also doubles as a tidy and clean charging stand where you don't have to worry about cables sitting there. And with USB-C, it can charge everything from the ROG Ally to a smartphone and even the Nintendo Switch. However, Syntech notes that it isn't compatible with the AYA NEO console.
The Syntech 6-in-1 Docking Station for ASUS ROG Ally and Steam Deck is available for USD 39.99 via Amazon.