We're now well and truly into the latest generation of graphics cards from NVIDIA and AMD, with the former set to release its new mainstream GPU offering, the GeForce RTX 4060, on June 29. On the AMD front, we've seen the flagship Radeon RX 7900 XTX and 7900 XT, alongside the recent release of its mainstream offering, the Radeon RX 7600.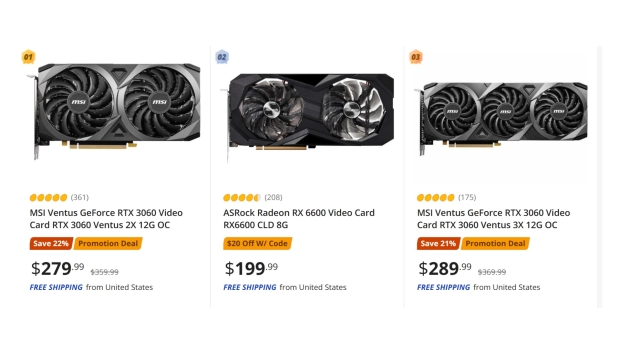 With the MSRP of the GeForce RTX 4060 set to USD 299 and AMD's Radeon RX 7600 at USD 269, these entries, although not exciting when it comes to raw performance, both feature competitive price points compared to their previous generation counterpart launches.
With the RTX 4060 arriving soon and the Radeon RX 7600 still relatively new on the scene, we thought we'd look at the current best-selling GPUs over at US-based retailer Newegg to gauge the market for new graphics cards.
And with that, the top two selling models are the discounted MSI Ventus GeForce RTX 3060 2X for USD 279.99 (with an additional 10% off) and the ASRock Radeon RX 6600 for USD 199.99 (with an additional $20 off). Rounding out the top five, you're looking at discounted Ampere and RDNA 2 offerings covering mainstream and mid-range models.
MSI Ventus GeForce RTX 3060 12G 2X - USD 251.99
ASRock Radeon RX 6600 - USD 179.99
MSI Ventus GeForce RTX 3060 12G 3X - USD 260.99
ASRock Challenger D Radeon RX 6700 XT - USD 309.99
ASUS TUF Gaming NVIDIA GeForce RTX 3070 Ti OC - USD 449.99
Budget options comprise most of the Top 20 bestsellers, with cards around the USD 300 range, showcasing that this mainstream pricing bracket drives GPU sales. Interestingly, no RDNA 3-based Radeon RX 7000 series GPUs are in the top twenty, but a few GeForce RTX 40 Series models exist.
You have the GIGABYTE Gaming GeForce RTX 4090 at Number 9 for USD 1,689.99, the MSI Gaming GeForce RTX 4070 Ti Gaming X Trio for USD 943.20 at Number 14, the GIGABYTE GeForce RTX 4070 Ti GAMING OC for USD 848.40 at Number 16, the MSI Gaming GeForce RTX 4090 Gaming X Trio for USD 1,649.99 at Number 18, the ASUS TUF Gaming NVIDIA GeForce RTX 4070 Ti OC for USD 849.99 at Number 19, and the brand new GIGABYTE GeForce RTX 4060 Ti EAGLE 8G for USD 399.99 at Number 20.
Newegg doesn't provide exact sales figures for units sold, but this list is a great snapshot showcasing that the most popular GeForce RTX 40 Series cards are the RTX 4090 and the RTX 4070 Ti. Plus, it's good to see the GeForce RTX 4060 Ti make the list, as its price point of USD 399 is on par with the GeForce RTX 3060 Ti. It will be interesting to see how next week's launch of the GeForce RTX 4060 fares, though, with heavily discounted GeForce RTX 3060 and RTX 3060 Ti models still available from MSI, ASUS, GIGABYTE, ZOTAC, and others, it might take a while before we see a proper transition to the new mainstream cards from NVIDIA and AMD.
And for those wondering about Intel, the Intel Arc A750 Limited Edition 8GB looks to be selling well, appearing at Number 22.