If you're gaming on a PC, then no doubt most of that time is spent using Valve's Steam client, and today it just got a massive update that overhauls everything from the underlying framework and codebase to the UI elements, in-game overlay, and more.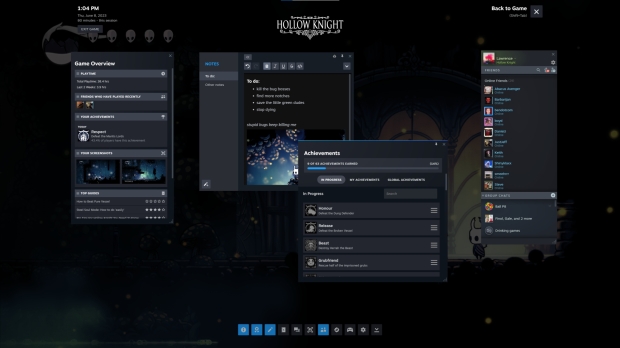 In fact, if you fire up Steam, you'll notice that even things like font choices and how information and notifications are laid out look different.
This update has been in the works for quite some time, with the big goal being how the client shares code between its various modes - Steam Desktop Client, Big Picture mode, and Steam Deck. This means new features and updates will be easier for Valve to implement going forward. Plus, hardware acceleration has been added to Steam's Mac and Linux versions.
Think of it as more than a fresh coat of paint, though we like the improved layout and presentation of things like menus, colors, and how screenshots are handled.
The biggest notable change comes with the redesigned in-game overlay, which now features a cleaner look with new functionality that includes taking notes and pin elements (with adjustable transparency settings) so you can game while in a text chat with friends. The new Notes system is cool because it syncs to the cloud and supports text formatting and storing images like screenshots.
Here's an overview of the changes.
Updated Steam Client notifications, with additional settings allowing you to choose which notifications you'll see and where you'll see them.

Visual and usability improvements in dialogs, menus, fonts, and colors - including screenshot manager, achievements, and more.

An overhauled in-game overlay (accessible via Shift+Tab), with an updated design, new features, and more customizability.

New notes functionality with rich text formatting, image pasting, and offline functionality. Multiple notes can be saved per game, and they are accessible via the in-game overlay, desktop client, and Steam Deck.

New pinning functionality - panels from the in-game overlay can now be "pinned" (with adjustable opacity), so they are viewable while in-game.

Updated controller configurator is now part of the overlay when a gamepad is connected.

Mac and Linux versions of Steam have been updated to enable hardware acceleration.
You can read the full extensive patch notes for the new Steam Client here.