Fallout creator Tim Cain takes us back to the past to discuss the influences that helped shape the first game into one of the most iconic video game franchises of all time.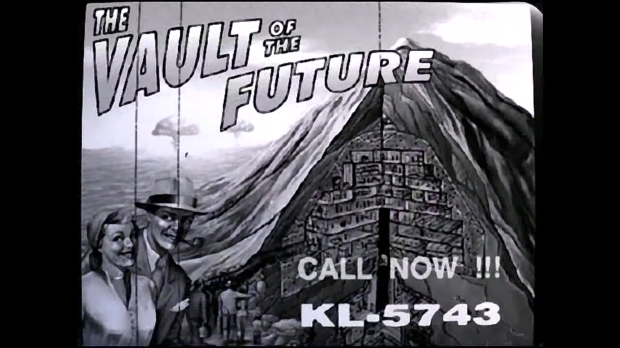 There's nothing quite like a Fallout game. The retro-futurism style of the atomic age brings a striking visual design that you really don't see very much any more. A good portion of the game was based on satire grounded in reality, really tapping into the nuclear and communist scares that defined the era.
One not-so-surprising influence was the 1988 Apple II classic Wasteland. Cain clarifies that Wasteland wasn't as much of an influence as everyone thinks. "The biggest influence, outside of the post-apocalyptic world and things like Rangers, was the idea that there could be quests that have a moral dilemma in them."
Below we have a quick breakdown of some of Fallout's major influences:
Vault-Tec - "It was a stereotype of every greedy, poorly-managed defense contractor that flourished during the Cold War, and after. We just wanted to make fun of those."
General Atomics - "That specifically came from Robert Heinlein and the short stories he wrote. Many of them had a reference to a company called General Atomics."
Robco - "This was a parody of Ronco, the company that made the Popeil Pocket Fisherman. In Futurama, he was the guy who invented heads in jars."
Sugar Bombs - "These were based on Calvin and Hobbes. Calvin's favorite cereal was chocolate frosted sugar bombs, and these just had to be in a game about post-nuclear war."
Nuka Cola - "This obviously came from Coca-Cola...back when it really contained cocaine. So who knows what's in Nuka Cola!"
Robots - "Our robots were primarily inspired by things like Forbidden Planet, its robot, Robbie, was a touchstone for a lot of our robot designs. I remember specifically telling our designers that anything new, like a Terminator or Robocop-style design, would be denied and rejected. I guess now though with synths that any kind of android is fair game for Fallout."
Advertisements - "Our artists looked at old-war era posters and they also looked at comic books, especially the front covers, or just how people posed and how monsters were coming at them."
Weapons and Armor - "These were modeled after a lot of real-world guns but that was for the regular guns. For the lasers and plasma weapons, we looked at everything from old Flash Gordon movies and serials to things like Blade Runner. I think you can see that influence."
Power Armor - "What happened is that we needed a high-end armor, and Leonard [Boyarsky] had made one, but later on when he needed something more detailed to show in cinematics, that's when he made the power armor that's on the cover and in the cinematics, and subsequently in the game. I know parts of it came from City of Lost Children, you know the helmet eyepiece, you can see that in the movie the City of Lost Children. The tubing and vents were inspired by movies like that. The whole look of tech in City of Lost Children was very inspirational to a lot of our artists."
Radiation Effects - "Chris Taylor wrote the section of nuclear blast effects in the manual and I know he used an outside source. I don't remember what it was. I think it was something...Kurt Decker, one of the programmers, I think he found it in the trash. I don't know where it came from. I know we referenced movies like Them, the '50s movie with the giant ants as what we wanted radiation to do in our games. We wanted giant animals like the radscorpion. There were a lot of '50s movies that had giant versions of regular creatures."
Ghouls - "We also disagreed on that. I thought they were from radiation, other designers wanted them to be a combination of radiation and FEV. I thought 'let's let the mutants be FEV and the ghouls are just radiation.' That led to the whole idea of, why did the master want vault dwellers because they didn't have radiation damage. The more radiation damage you had, the more likely that FEV would turn you into a dumb super mutant rather than somebody like the lieutenant."
The Glow - "We also put high-radiation areas in the game...The Glow was one of them. We always said that's where things like glowing ghouls came from. They just had absorbed so much radiation they were re-emitting it.
George Romero - "I know we thought of a lot of the George Romero movies for the feral zombies, they were what he called walkers. The radiation suits were based on things we saw in movies like Fremont Island, which was about the disaster of the nuclear power plant."
Effects - "For the effects in the game, I had already made a drug effect system and we kind of generalized radiation off of that."
The War - We talked about how we needed a big scary evil communist state because we were basing Fallout on being capitalistic. Russia had already declined in the 80s that we went with China, because it fit the bill. The movie Red Dawn was inspirational, about the U.S. being invaded, except we used China instead of Russia.
Be sure to watch the whole YouTube video to learn more about the rest of the influences that shaped the original Fallout game's development.