Sales for discrete PC graphics cards or GPUs are in a dire state, with a new report from Jon Peddie Research stating that total AIB shipments decreased by 38.2% in Q1 2023 compared to the same quarter from last year. According to the report, this still equates to roughly 6.3 million units, down from the previous quarter's 7.16 million units.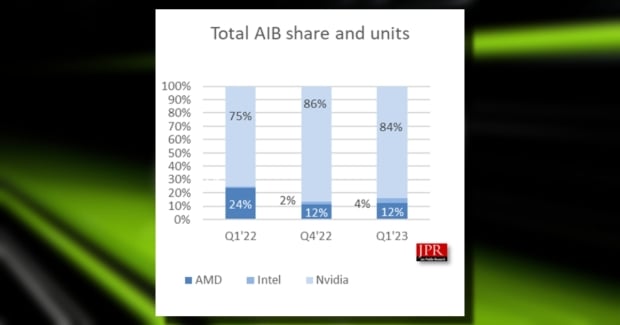 But with new GPU releases from NVIDIA and AMD, in the form of cards like the GeForce RTX 4070 Ti, the report indicates that the demand for new GPUs is historically low. Jon Peddie Research cites inflation worries, layoffs, and people buying up last-gen graphics cards sold at a discount to clear out inventory.
With the prices we've recently seen for cards in AMD's Radeon RX 6000 series, discounts in the hundreds of dollars compared to their original MSRPs, it's no wonder people are snapping up bargains. We'd wager that the overall price increases for new high-end GPUs like the GeForce RTX 4080, GeForce RTX 4070 Ti, and Radeon RX 7900 XTX have factored into lower volume.
On the plus side, the report notes that as Q2 is traditionally a down quarter, sales should pick up by Q3 2023. The numbers above don't include NVIDIA's GeForce RTX 40 Series, which has always represented the top-selling GPUs for the company, so there's an expectation that the upcoming GeForce RTX 4060, priced at USD 299, should sell a lot better than new GPUs quadruple the price.
AMD still has a number of RDNA 3-based graphics cards to introduce, and Intel is also prepping to reveal its new next-generation Battlemage GPUs, so there's a lot on the horizon. In terms of competition, the report also highlights the total share of AIB GPU shipments (seen above), where NVIDIA still dominates with 84% market share (up from 75% a year ago), with AMD sitting at 12% (down a whopping 12% from a year ago), followed by Intel sitting at 4%.